You don't have to travel to Florence to buy authentic Italian Jewelry and Watches
When it comes to fine Italian jewelry, from intricate works on rings and pendants to excellent craftsmanship on 18K Gold and Murano glass, count on Italian tradition of excellence in craftsmanship.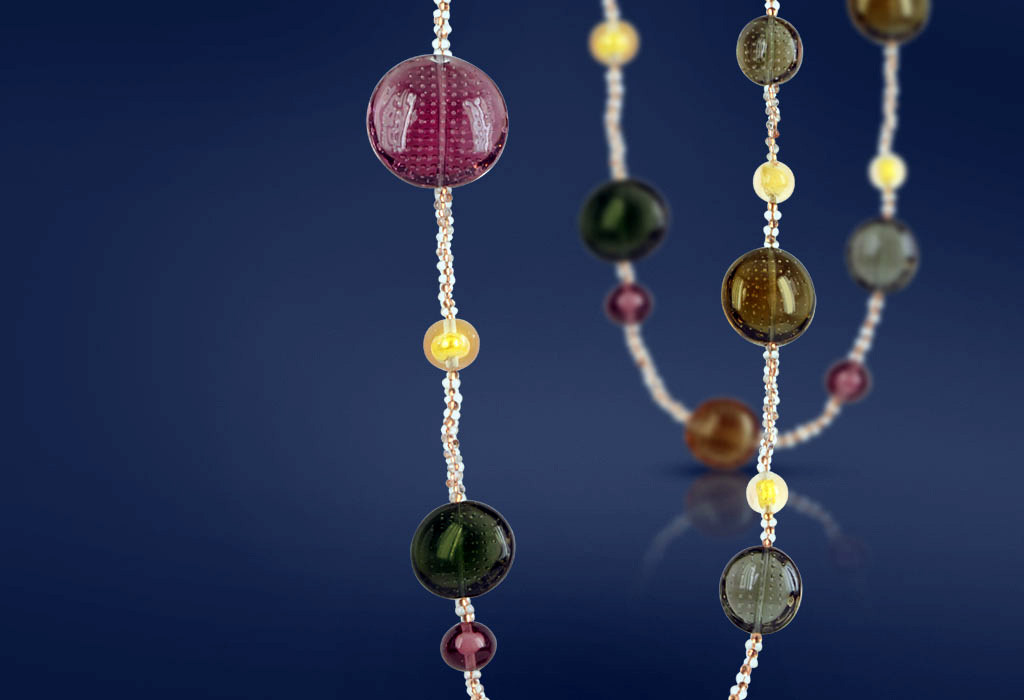 Since the pre-roman times, jewelry pieces made in the Italian peninsula have been worn by women and men, often to show their status in society.
In Florence today you can find the some of the best jewelry workers in all Italy. If you happen(ed) to go there, in Ponte Vecchio (Old Bridge) you will have the chance to see the excellent work displayed in the jewelry shops located along the sides of the bridge.
In the past few years, Italian watches have become more and more popular.
But, really, you don't have to go to view to view, purchase and wear some of these fantastic pieces of work.
The items displayed in this page come from Forzieri of Florence. With warehouses located across the world, delivery is fast and purchases are backed up by full warranty.
Brio – Murano Glass Bead Chandelier Earrings
Colorful chandelier earrings in non-allergenic metal featuring charming glass beads in varying shapes and sizes offer unique charm with an elegant flair. Gift box included. Made in Italy.
Arianna – 18K Gold Wide Ring w/ Round Diamond
A unique and dazzling ring by Orlandini features shimmering strands of woven 18K yellow gold and one 0.10 carat brilliant diamond. Each creation may vary slightly. Gift box included, Made in Italy. Also available in red or white gold. Please contact Customer Service for details.
Oval 18K Yellow Gold Men's Ring
This men's Torrini ring is entirely hand-made with the lost wax casting technique and finished with ORO NATIVO, a semi-polished finish. The Torrini trademark is engraved on the side; it comes in an elegant gift box. Made in Italy.
Woman Mother of Pearl Cameo Pendant/Pin
Working in the cameo and coral art for over five generations, this Del Gatto cameo features a stately woman with flowers on beautiful mother of pearl showcased in a gold frame. It can be worn as a pendant or pin for a touch of classic elegance. Gift box included. Made in Naples, Italy.
Rondelle Moving Mini – 18K Yellow Gold and Diamond Necklace
Torrini's stunning 18K yellow gold necklace hand-crafted using an ancient wax casting technique, luxuriously displays 54 natural diamonds (0.40 ct TW) topped by a semi-polished finish for added luster and brilliant shine. Gift box and Certificate of Origin included, Made in Italy.
The articles of the AZ Collection line are the result of close attention to detail, extreme care in the selection of materials, and precision hand finishing. The ladybug pin dazzles with hand-set SWAROVSKI ELEMENTS. Silver plated and nickel free. Made in Italy.
Classics Collection – 18K Gold and Ruby Link Bracelet
An exclusive hand-made creation of the Classics line that features Hellenic mythological subjects molded on red vitreous paste links and stamped on thin 18K gold oval sheets. Embellished by precious cabochon rubies and lustrous pearls. Made in Italy,
Men's Stainless Steel Bracelet Chronograph Watch
Forzieri's chronograph watch boasts handsome details in stainless steel featuring day-glow detailing, oversize round face with screwed case and deployment clasp, perfect for elegant and casual occasions. Signature case included, Italian design.
Madison – Ladies' Black Round Dial Diamond Watch
This exclusive diamond ladies' watch is a rare piece of extraordinary elegance adorned by diamonds on the dial and on the case. Logoed gift box included, Swiss Made, Designed in Italy
Dolci Gioie Designer Rings, Sterling Silver Red Rose Ring
Handcrafted in Italy, this lovely rose ring in colorful Japanese clay enriched with sparkling SWAROVSKI ELEMENTS is charming enough to make anyone feel like stopping to smell the roses. Band is adjustable to fit most sizes. Made in Italy.