Best selling albums and DVDs by Andrea Bocelli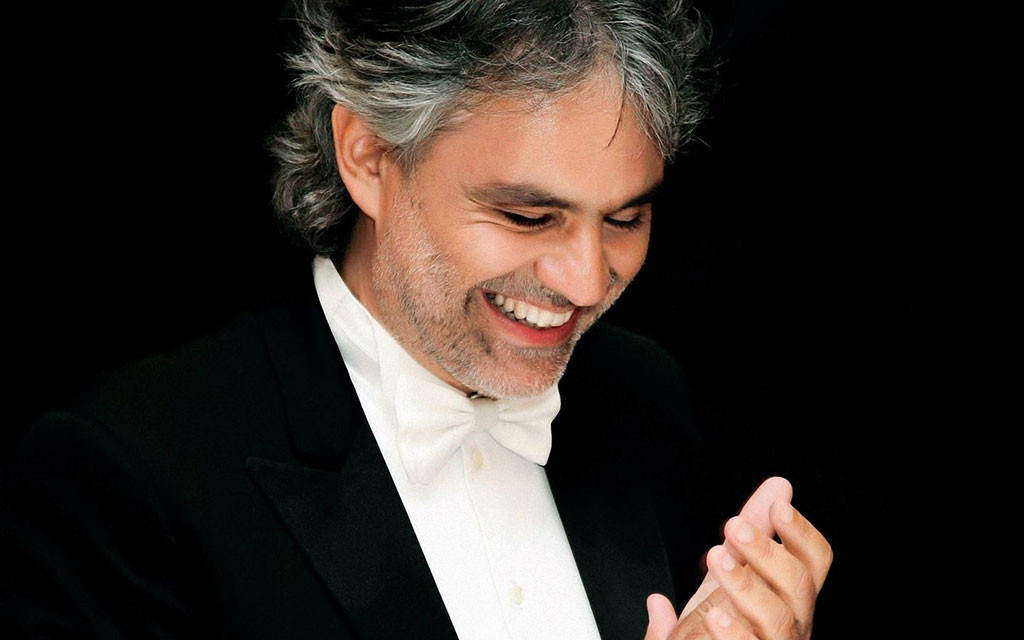 Part of Andrea Bocelli's success is due to the fact that he can sing opera and pop songs with ease. Andrea became famous at Sanremo Festival when, for the first time, he sang "Con te partirò", a lovely romantic song that really brings out the best of his voice.
Needless to say that audience and viewers nation-wide were delighted by his performance and charm. Bocelli soon became one of the best selling Italian artists of all time.
He's very popular in USA where he performed several concerts including one in Central Park in New York. Many of his concerts are available on DVD and Blu-ray and I thought that you might be interested in some of them as well as his most famous albums.
Here are my suggestions:
Romanza is the album that launched his career. The 12 selections include "Time to Say Goodbye," Bocelli's spine-tingling #1 single with Sarah Brightman. (66 minutes)
---
International superstar Andrea Bocelli returns with his new eagerly awaited album Cinema. Cinema celebrates the greatest movie songs of all time and reunites a team of musical legends including David Foster, Humberto Gatica and Tony Renis who worked together on the trailblazing success of Bocellis Amore. Cinema marks Bocellis first new studio recording in two years and will be released globally on October 23 on Verve.
---
While creating Bocelli's first-ever album of popular songs, Andrea and his producers searched the musical eras from the 1920's to the 1980's for romantic songs including 'Les Feuilles Mortes' (Autumn Leaves), 'Somos Novios' (It's Impossible), 'Besame Mucho', 'Estate' (featuring trumpeter Chris Botti) and 'Because We Believe' a new song written especially for the 2006 Winter Olympics that will be featured throughout NBC's coverage of the Games. Universal. 2006.
---
Filled with romance and beauty, "Passione" is a lush collection of Mediterranean love songs featuring duets with global pop stars Jennifer Lopez, Nelly Furtado, and the late Edith Piaf. The album reunites Bocelli with 16-time Grammy Award-winning producer David Foster, who produced Bocelli's 2006 release "Amore," which sold more than 4.2 million copies.
"Passione" is in essence the second volume of "Amore," with a "fil rouge" which ideally connects the albums. As with "Amore," which featured timeless masterworks, "Passione" includes several beloved classics such as "Love Me Tender," "Girl From Ipanema," and "Sarà Settembre," (better known to English-speaking audiences as Neil Diamond's "September Morn"). Jennifer Lopez is featured on the soft and sensual track "Quizás Quizás Quizás" and Nelly Furtado joins Bocelli on "Corcovado." The album also features a duet with the late French chanteuse Edith Piaf on the song "La Vie En Rose."
On the album, Bocelli sings in six languages (Italian, English, French, Spanish, Portuguese, and Neapolitan) with his unmistakable voice, as Foster accompanies him on piano, along with Peruvian guitarist Ramon Stagnaro. The sensual sound is rounded out by Cuban, Brazilian, and Portuguese rhythms and a 63-piece orchestra recorded in London.
"Andrea continues to be my favorite singer of all time," Foster declares. "I pride myself on working with great voices, but he transcends that. He's a singer for all people, from the common man to the Pope."
Bocelli is an iconic figure in music with a myriad of breathtaking career achievements to his name. The Italian tenor is the most successful classical solo artist ever and one of the best-selling artists in music history, period, with more than 80 million albums sold worldwide. He is also credited with enabling the core classical repertoire to cross over and find a home atop the international pop charts, creating a new genre of music along the way. He has performed for four U.S. presidents, two popes, and the British royal family, as well as at ceremonies for the Olympic Games and the World Cup. He has been praised by such luminaries as Luciano Pavarotti, Franco Corelli (his beloved teacher and guide), Zubin Mehta, José Carreras, Lorin Maazel, Renée Fleming, and Celine Dion.
---
Opera, The Ultimate Collection showcases Andrea Bocellis vibrant personal journey through the world of opera.
The collection features the most popular tenor arias from well-known operas such as La Boheme, Tosca, La Traviata, Madame Butterfly and Romeo & Juliet.
A brand new recording of the much celebrated Nessun Dorma! from Puccinis Turandot is included; a signature piece for Bocelli as it was for his mentor Luciano Pavarotti.
The album draws on arias which inspired Andrea throughout his career, from his first memory of opera, Verdis La donna e mobile to his newest recording of the great aria Donna non vidi mai from Puccinis Manon Lescaut.
Includes Andreas personal favorites from the masterpieces of Puccini and Verdi, as well as the very best of French opera, featuring arias by Massenet, Gounod and Bizet.
Bocelli explains: The main objective of this type of album is to draw people closer to the opera, in particular, to the whole opera. So, I chose the tracks that are the most engaging the first time you listen to them. I hope I have made the right choice and it encourages people to discover more.
The collection will be accompanied by a simultaneous release of the complete Manon Lescaut opera.
Andrea Bocelli is the worlds biggest selling classical artist – 80 million records sold and counting.
This recording is sure to become the go-to collection for fans wanting to hear their favorite tenor in the worlds most famous melodies.
---
2011 live release from the world's most beloved tenor. Internationally acclaimed tenor Andrea Bocelli performed a free concert on Central Park's Great Lawn, Thursday, September 15th with the New York Philharmonic, conducted by its music director Alan Gilbert, as a special gift to New York City.
---
Italian tenor Andrea Bocelli grew up in Lajatico, a rural village in Tuscany, where his family still farms nearby. Last July, on the slopes of his ancient hill town, a special theater was constructed for a one-night-only concert of his greatest popular hits along with new songs performed to honor the occasion. Some famous musical friends dropped by and the magical result is Andrea Bocelli – Vivere – Live in Tuscany, premiering this December on PBS.
Joining Andrea for the new songs are "grandissimo sassofonista" Kenny G, trumpeter Chris Botti, piano virtuoso Lang Lang, Italian pop star Eliza, and legendary musician, songwriter and producer David Foster. Helping with the hits: favorite divas Sarah Brightman, Heather Headley and Laura Pausini.
Surveying the breathtaking landscape that provides the backdrop for the festivities, Bocelli introduces the telecast with the passion of a true Toscano. "It's my land," he says, "a land that loves silence as much as I do. If I break this silence with my voice, it's because I want to pay tribute. Music penetrates this land; it flows across it and flies off far away. It's a message of love."
Musical highlights include the song that launched Bocelli's career, "Il Mare Calmo Della Sera"; the one that brought him international stardom, "Time to Say Goodbye," in duet with Sarah Brightman; Laura Pausini joining him for "Dare to Live" ("Vivere"); Bocelli and Heather Headley reprising the popular "Vivo Per Lei," plus several new selections from the just-released The Best of Andrea Bocelli – Vivere album (Sugar Music/Decca). Also featured is a meltingly romantic medley of songs from his 2006 collection, Amore: "Bésame Mucho," "Somos Novios" ("It's Impossible") and "I Can't Help Falling in Love with You."
Disc: 1 (Live CD)
1. ITALIA (Featuring Chris Botti on trumpet)
2. LA VOCE DEL SILENZIO (Duet with Elisa)
3. MEDLEY: Besame Mucho, Somos Novios (It's impossible), Can't Help Falling in Love
4. CANTO DELLA TERRA (Duet with Sarah Brightman)
5. MILLE LUNE MILLE ONDE
6. ROMANZA
7. SE LA GENTE USASSE IL CUORE (Studio Version)
8. DOMANI (Studio Version)
Disc: 2 (Live Concert DVD)
1. MELODRAMMA
2. ROMANZA
3. A TE (Featuring Kenny G on soprano saxophone)
4. VIVO PER LEI (Duet with Heather Headley)
5. IO CI SARÒ (Featuring Lang Lang on piano)
6. HUNGARIAN RHAPSODY no. 2 in C sharp minor (Performed by Lang Lang)
7. LA VOCE DEL SILENZIO (Duet with Elisa)
8. DANCING (Performed by Elisa)
9. CANTO DELLA TERRA (Duet with Sarah Brightman)
10. BELLISSIME STELLE
11. MEDLEY: Besame Mucho/Somos Novios (It's impossible)/ Can't Help Falling in Love
12. BECAUSE WE BELIEVE
13. THE PRAYER (Duet with Heather Headley)
14. ITALIA (Featuring Chris Botti on trumpet)
15. DARE TO LIVE (Vivere) (Duet with Laura Pausini)
16. SOGNO
17. IL MARE CALMO DELLA SERA
18. TIME TO SAY GOODBYE (Con te partirò) (Duet with Sarah Brightman)
DVD Bonus Material Includes: Photo gallery and behind the scenes interviews and more
Bocelli Vivere Live In Tuscany will be available in both digipak and amaray versions—-each with DVD and CD components.
---
This brand new CD/DVD compilation highlights Andrea's breathtaking performance in Portofino, Italy on August 11, 2012 and includes the already quintessential songs from Bocelli's January 2013 release Passione. See and hear as Andrea delivers a performance of a lifetime from the beautiful surroundings of the Pizzetta in Portofino. Playing to an intimate crowd at sunset the legendary tenor sings the most famous love songs in the world accompanied by 16-time Grammy Award winner David Foster and a 40 piece orchestra. This is an unmissable feast of emotion, gorgeous settings and unforgettable songs.
On Tour 2013
Sat, Dec 7th – Las Vegas, NV – MGM Grand Garden Arena
Sun, Dec 8th – Phoenix, AZ – US Airways Center
Wed, Dec 11th – Brooklyn, NY – Barclays Center
Thu, Dec 12th – Washington D.C. – Verizon Center Washington
Sat, Dec 14th – Tampa, FL – Tampa Bay Times Forum
Sun, Dec 15th – Atlanta, GA – Philips Arena
---