Latest Made in Italy arrivals at YOOX.COM
YOOX sells products Made in Italy by famous designers and brands. Choose from a wide variety of clothing for women, men and children, jewelry, leather bags, shoes, home decor, and much more.
YOOX NET-A-PORTER GROUP is the world's leading online luxury fashion retailer. The Group is a Global company with Anglo-Italian roots, the result of a game-changing merger, which in October 2015 brought together YOOX GROUP and THE NET-A-PORTER GROUP, two companies that have revolutionized the luxury fashion industry since their birth in 2000.
Uniquely positioned in the high-growth online luxury sector, YOOX NET-A-PORTER GROUP has an unrivalled client base of more than 2.5 million high-spending customers, over 27 million monthly unique visitors worldwide and combined 2015 net revenues of €1.7 billion. YOOX NET-A-PORTER GROUP has offices and operations in the United States, Europe, Japan, China and Hong Kong and delivers to more than 180 countries around the world.
YOOX NET-A-PORTER GROUP is listed on the Milan Stock Exchange as YNAP.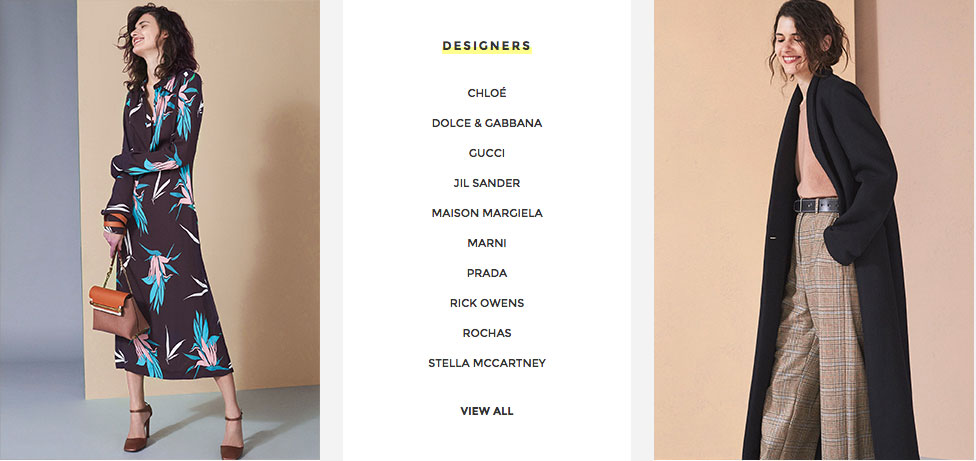 YOOX NET-A-PORTER GROUP is a unique business with an unrivaled offering covering all luxury fashion customer segments, through its multi-brand in-season online stores NET-A-PORTER, MR PORTER; its multi-brand off-season online stores YOOX and THE OUTNET; and its numerous ONLINE FLAGSHIP STORES "Powered by YNAP".
NET-A-PORTER, launched in 2000, has become the world's premier online luxury fashion destination for content and commerce. A true innovator, NET-A-PORTER.COM is renowned for its unparalleled editorial content and is a leading destination for the world's most coveted designer brands.
MR PORTER, launched in 2011, has established itself as the award-winning global retail destination for men's style, combining an unparalleled product offering from the world's best menswear brands, watchmakers and specialist grooming brands.
YOOX, launched in 2000, is the world's leading online lifestyle store for fashion, design and art, offering a never-ending selection including: hard-to-find clothing and accessories from the world's most prestigious designers, exclusive capsule collections, Eco-friendly fashion, a unique assortment of home design objects, original books and a curated selection of compelling and collectable artworks.
THE OUTNET, launched in 2009, is the most fashionable fashion outlet, and has grown to be the go-to destination for the style-conscious shopper looking for the best designer products at great prices.
Editorial content is at the core of the modern e-commerce experience and the ultimate reference point for global consumers in the fashion space, whether online or offline – anytime, anywhere and on any platform. The Group's media and publishing division creates award-winning content for its titles including, but not limited to, PORTER, The EDIT and The Journal, which connect with consumers in a unique and authentic way.
YOOX NET-A-PORTER GROUP is the e-commerce partner of choice for leading fashion & luxury brands, designing and managing ONLINE FLAGSHIP STORES, offering their latest collection on the Internet. With over 15 years of experience in global luxury e-commerce, YOOX NET-A-PORTER GROUP offers brand partners a wide range of services, including creating and developing the creative concept, innovative interface design, state-of-the-art technology and R&D, high-precision global customer logistics, unrivaled customer care, international web marketing and e-commerce strategy development.
View the latest arrivals at YOOX.COM