What are the designers and looks that we should be excited about for the approaching season?
As we enter summer in earnest, it's hard to give much thought as to what will be in fashion for this fall and winter. Fortunately, one of the fashion industry's biggest events is a step ahead of us. The Italian fashion extravaganza Milan Fashion Week debuted its autumn and winter collections in late February and early March of 2016. The world's biggest designers and fashion houses were hard at work coming up with eye-catching new ideas for the fall when most of us were still scraping ice from our windshields and summer seemed like a distant dream. And since summer will be gone before we know it, what are the designers and looks that we should be excited about for the approaching season?
Prada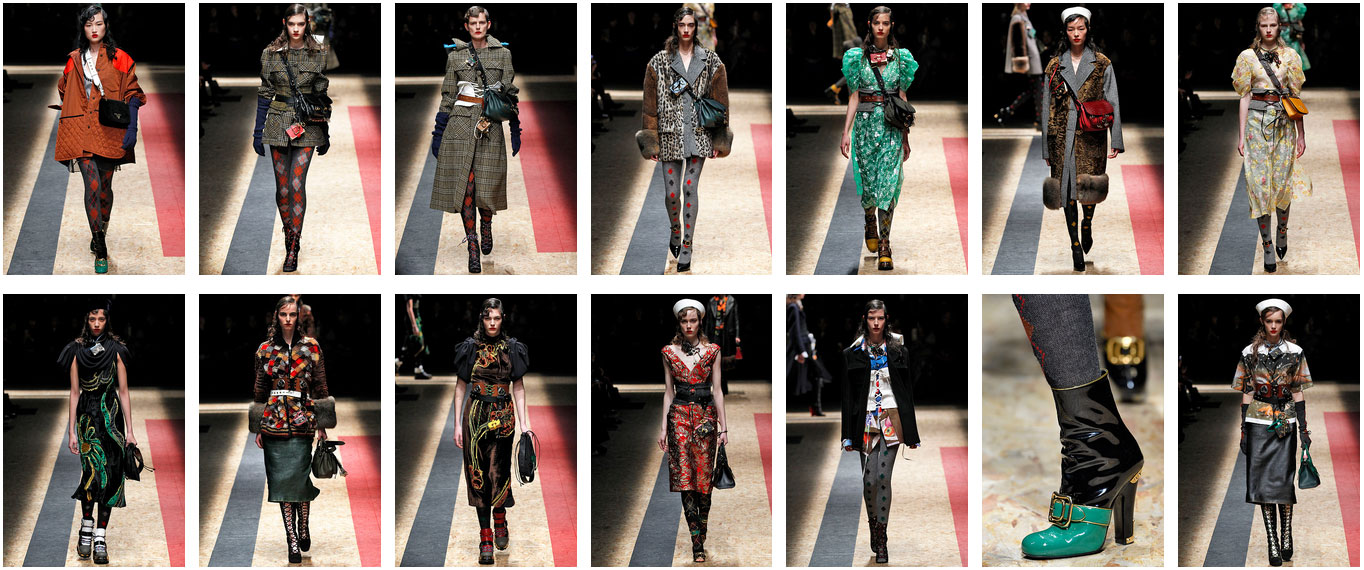 One of the fashion giant's owners said that the theme of their show this year was "the history of women". Fashions on runway display offered a couple of quasi-uniform looks, and "practical" corsets fastened up on the exterior of outfits. But the "history" Prada night have been referring to in its show was timeless female affection for accessories, which were very much on display with every outfit. These accessories included small, practical hand and shoulder bags, journals and notebooks, and creative "key chains" in the form of necklaces, festooned with faux jewels and metal work. But what caused a buzz for Prada at the show and looks like it'll have "legs" for the company in terms of sales? The heavy woolen argyle patterned tights that the models were wearing. View Prada at Yoox.com.
Gucci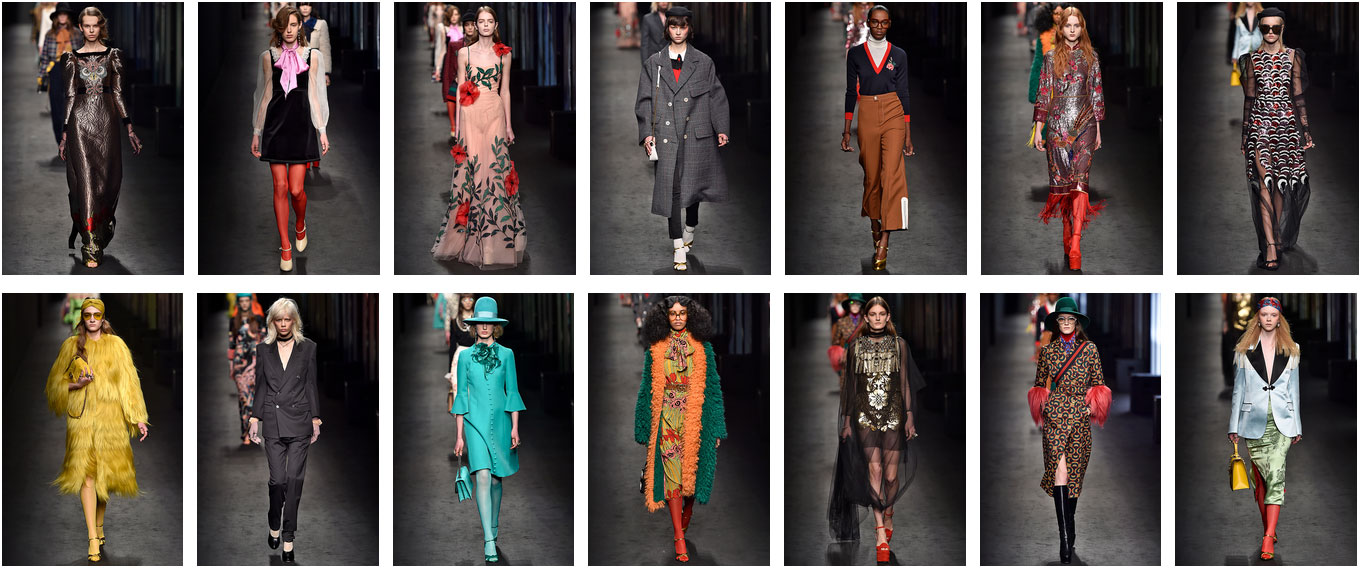 Designer Alessandro Michele created a stir last year with his unisex geeky approach, but not much else. Michele hasn't entirely given up on "geek glam" with his latest collection, but it has a more mature, feminine look. Like other designers here, Michele thinks that tulle and skirts will be autumn/winter's look, and he offered an assortment of variations on this. View Gucci at Yoox.com.
Fendi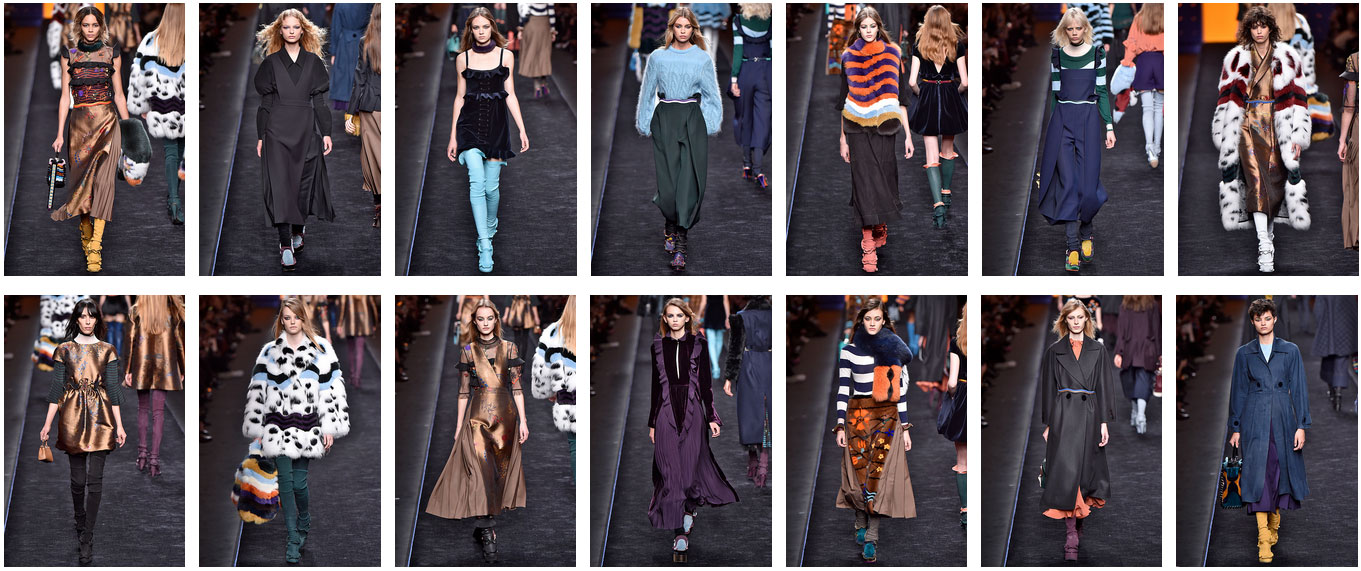 Fendi thinks that frills and distinctive looking tights will be the big thing this fall and winter as well. In addition to flouncy dresses in muted basic colors and stripes, Fendi models sported eye-catching baggy tights and intriguing looking thigh-high boot-legging hybrids. The company seems to think that stripes will be a hot colder weather look this year as well.
Versace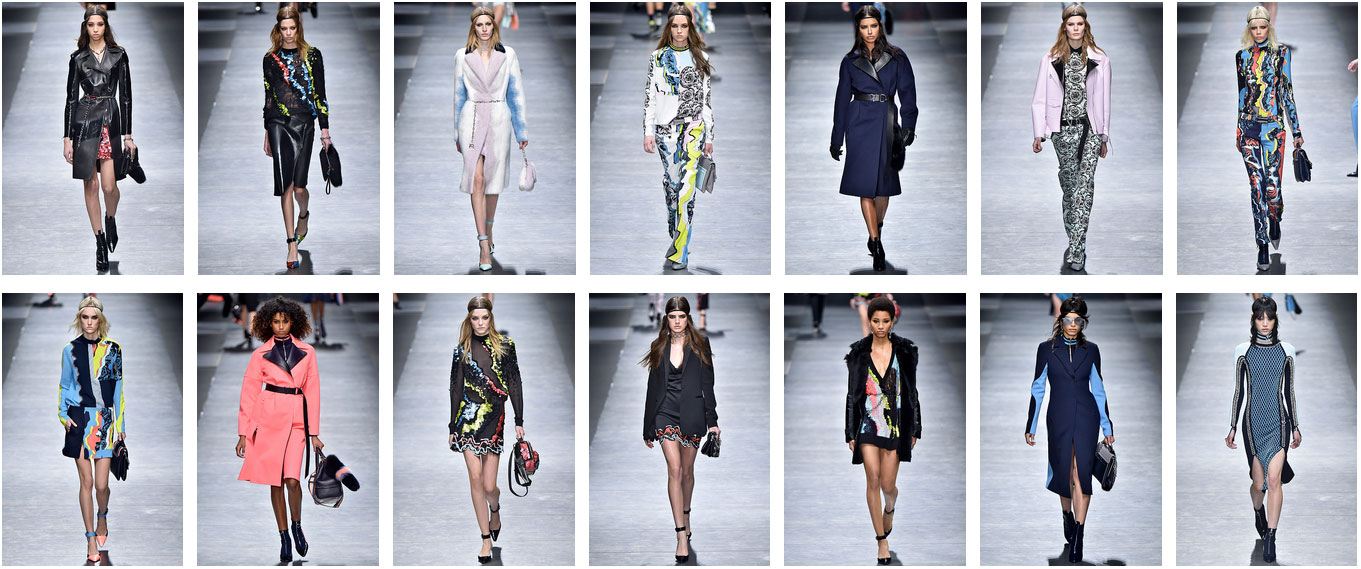 Unlike other designers here, who presented evolved peasant skirts and blouses, Donatella Versace went with a more streamlined, shorter, "tougher" look. Her collection featured models in mini-skirts and dresses, with short, tight, bomber style leather jackets in various colors. Patterns and especially stripes, were represented here as well. While this Italian fashion event was big in past years as a "coming out party" for up and coming super models, some fashion watchers have speculated that those days are over with. However, some industry experts have noted that Versace's latest collection seems to showcase models like Gigi Hadid as much as clothes. View Versace at Yoox.com.
Bottega Veneta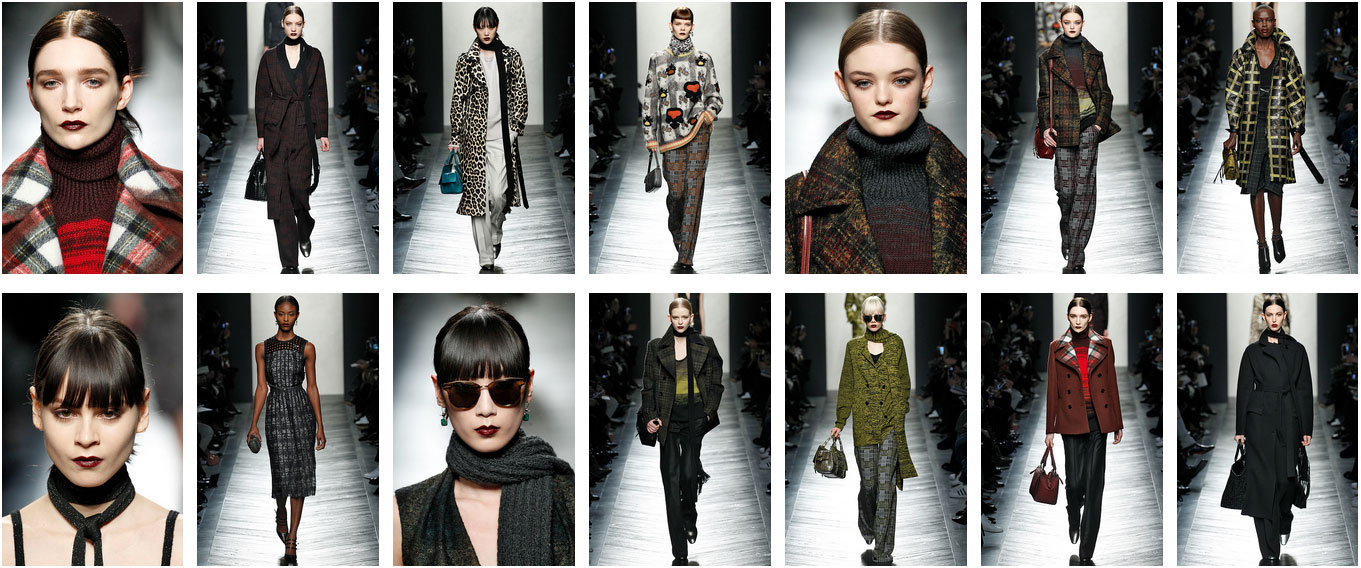 Head designer and Creative Director Tomas Maier said that Bottega Veneta's fall efforts showcased long and lean silhouettes. The company's offerings focused on dresses and trousers, with smaller handbags (a trend through the show) and knitwear prominently on display. Maier stated that his goal with this line was to produce something that was "wearable", and fashion watchers deemed Maier's work some of the most functionally attractive of the week.
Roberto Cavalli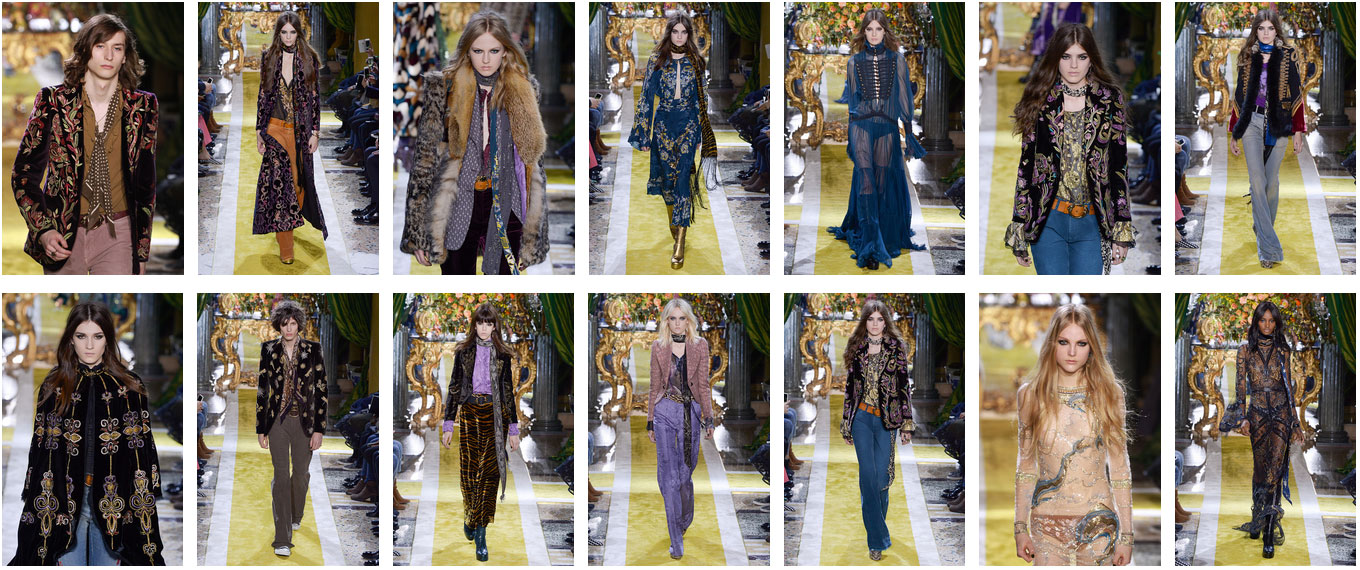 The 1960s will be returning this fall, claims the Cavalli house, at least with its dresses, which featured both mini and long, flowing dresses, in rich fabrics like chiffon and velvet. The Cavalli collection included slightly more practical trouser suits as well. View Roberto Cavalli at Yoox.com.
Max Mara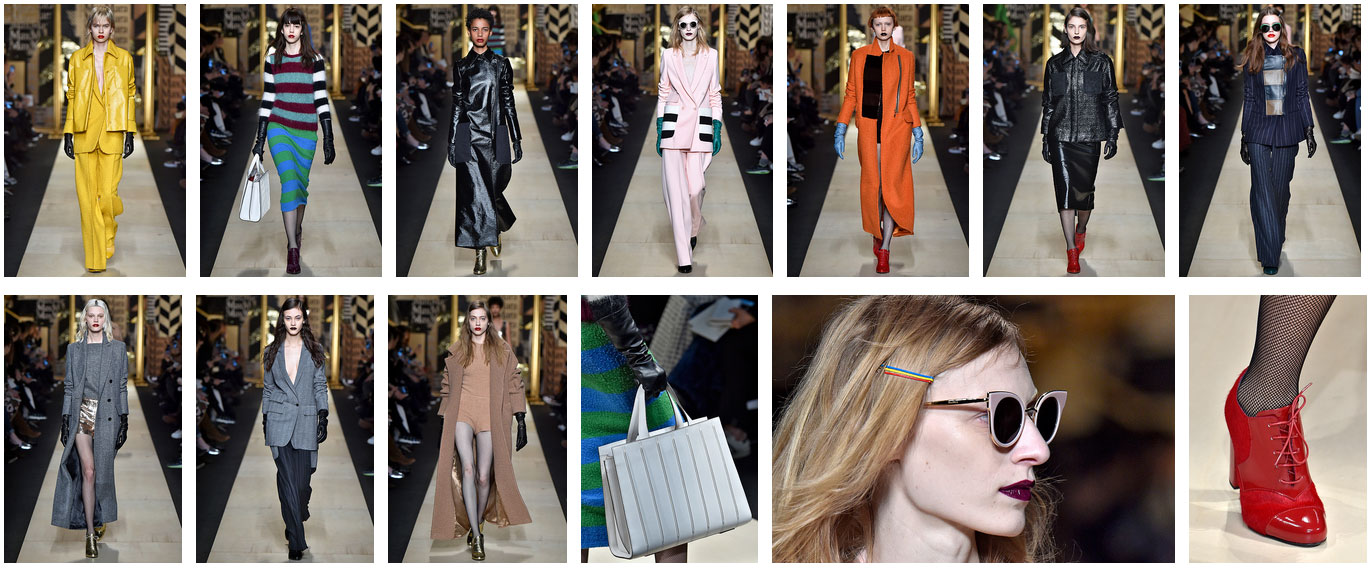 This design house has become famous for its camel overcoats, and no less than three different styles of it were on display in their show. The show's theme this year was "pioneering (as in trend setting) women", and this show featured bold colors, lots of knitwear, trousers, and intriguing colored leather gloves, which could end up being the big seller of this collection. Boiler suits were also featured here. View Max Mara at Yoox.com.
No. 21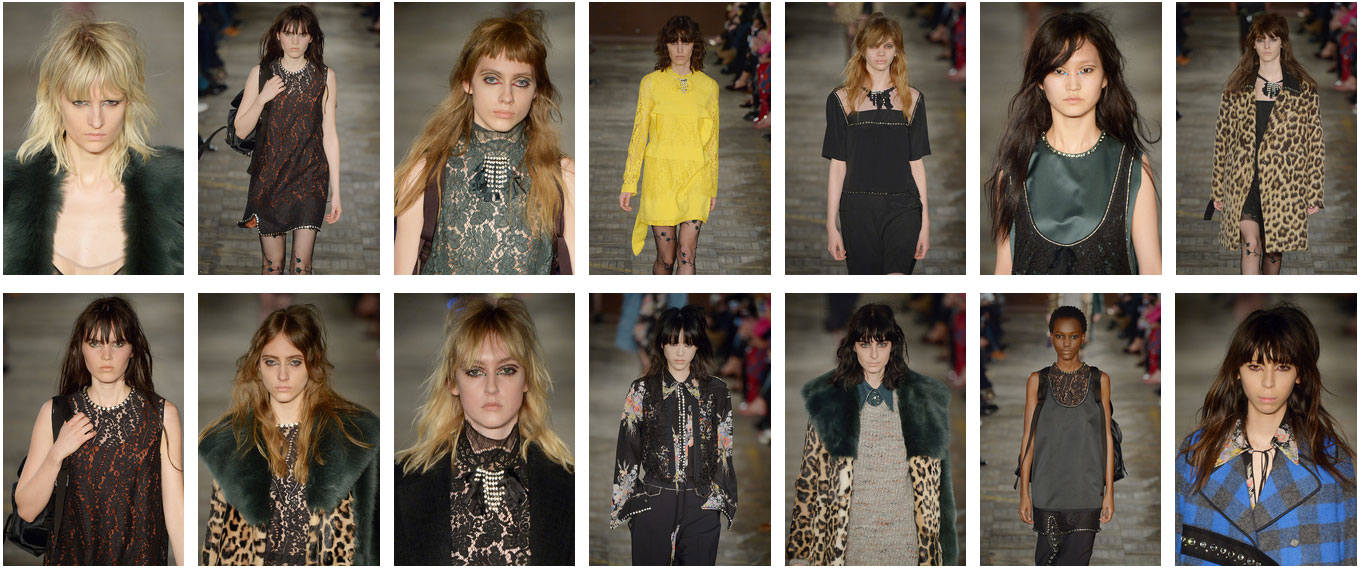 According to designer Alessandro Dell Acqua, grunge is back, and cheap is chic. No. 21's offerings here could best be described as "Nirvana visits the Salvation Army", with raccoon-eyed models in poorly fitting stockings displaying slip dresses, knit pullover sweaters, and plaid car coats of a 1940s design. Leopard prints and glittery embossing add to the fun of this collection, which might be a little too successfully grungy for some. View No. 21 at Yoox.com.
What to expect for Fall
As we wait for Part Two of Milan's Fashion Week this fall and next year's summer offerings, what can autumn shoppers expect? Vibrant solid colors and stripes, practical and pretty tights, "frillier" outfits, and (shoulders, wrists, and hands rejoice!) much smaller bags.