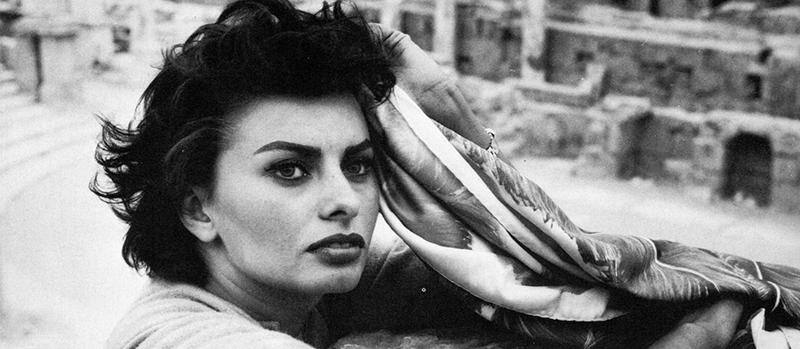 Early life and career
Sophia Loren was born September 20, 1934 as Sofia Villani Scicolone in Rome, to unmarried parents; her father Riccardo Scicolone was an engineer and her mother Romilda Villani was an aspiring actress and piano teacher. Loren grew up impoverished in wartime Pozzuoli, near Naples sharing a small flat with her sister Maria, her grandparents and her uncles and aunts.
She has said on many occasions that being born into and living with extreme poverty for most of her childhood gave her a strength of character that allowed her to succeed and appreciate every moment she has been given as a human being.
Up until Sophia Loren was about 14, she was considered an ugly duckling. Seemingly overnight, she bloomed into a beautiful woman. In 1949, at age 15, Loren left for Rome and about a year later began her film career with bit parts in mostly minor Italian films.
In 1951, Loren and her mother worked as extras in Quo Vadis, which was filmed in Rome and provided Loren with an early brush with Hollywood. She also appeared as Aida in Aida (1953), in which the singing of Loren's role was dubbed by opera star Renata Tebaldi, and which caught the eye of Cecil B. DeMille, who once said of Loren that 'You could build mountains around that girl'
Loren also supported her mother and sister by working as a model in the weekly illustrated romantic stories, called fumetti or fotoromanzi under the name Sofia Villani or Sofia Lazzaro. She also took part in regional beauty contests, where she won several prizes.
Loren was discovered by her future husband, the much older film producer Carlo Ponti, and they married on September 17, 1957, three days before her 23rd birthday. Their first marriage had to be annulled to keep Ponti from being charged with bigamy, and they remarried on April 9, 1966 but only after Sophia, Ponti and Ponti's first wife all obtained French citizenship thus enabling Carlo to divorce his first wife and subsequently marry Sophia without any Catholic divorce laws looming over them.
They would have two sons together, Carlo Ponti, Jr., and Edoardo Ponti. The couple remained together until Ponti's death on January 9, 2007. Eventually Sofia Scicolone changed her name to Sophia Loren (a twist on the name of Swedish actress Marta Toren) and appeared in film roles that emphasized her voluptuous physique, even appearing topless in the films Two Nights with Cleopatra and It's Him, Yes! Yes! (which was considered acceptable in European cinema at the time, though said scenes were usually cut out when the films were distributed in the United Kingdom or in North America).
These early films were the only times she would appear nude; she stated that she did not feel comfortable exposed to the camera as her nude state represented 'a lot of nakedness'.
Loren's acting career took off upon meeting Vittorio De Sica and Marcello Mastroianni in 1954. Many feel that her collaborations with De Sica would mark her finest work as an actress. By the late 1950s, Loren's star began to rise in Hollywood, with films such as 1957's Boy on a Dolphin and The Pride and the Passion in which she co-starred with Frank Sinatra and Cary Grant.
Cary Grant fell so deeply in love with Sophia that he ardently proposed marriage despite her obvious loyalty to Carlo Ponti and Grant's own union with actress and writer Betsy Drake. It is clear that Loren also fell in love with Grant, but how serious their relationship was is now known only to Loren. Their romance is considered to be one of the most elusive romantic interludes by both Hollywood stargazers and celebrity biographers alike.
International fame
Loren became an international film star with a five-picture contract with Paramount Studios. Among her films at this time: Desire Under the Elms with Anthony Perkins, based upon the Eugene O'Neill play; Houseboat, a romantic comedy co-starring Cary Grant; and George Cukor's Heller in Pink Tights in which she appeared with blond hair (a wig) for the first time.
Loren demonstrated considerable dramatic skills and gained respect as a dramatic and comedic actress, especially in Italian projects where she more freely expressed herself, although she gained great proficiency in English. In 1960, her acclaimed performance in Vittorio De Sica's Two Women earned many awards including the Cannes, Venice and Berlin Film Festivals' best performance prizes. Her performance was also awarded an Academy Award for Best Actress, the first major Academy Award for a non-English language performance.
Belying the typical portrayal of the beautiful actress as vacuous and emptyheaded, Loren was known for her sharp wit and insight. One of her most frequently-quoted sayings is her quip on her famous figure, "Everything you see, I owe to spaghetti." During the 1960s Loren was one of the most popular actresses in the world, and continued to make films in both the U.S. and Europe, acting with the leading male stars.
In 1964, her career reached its zenith when she received $1 million to act in The Fall of the Roman Empire. Among her best-known films of this period are The Millionairess (1960) with Peter Sellers, Vittorio De Sica's triptych Ieri, oggi, domani (1963) with Marcello Mastroianni, Peter Ustinov's Lady L (1965) with Paul Newman, and Charlie Chaplin's final film, A Countess from Hong Kong (1967) with Marlon Brando.
Despite the failure of many of her films to generate sales at the box office she has an impressive roster of beautifully photographed films, replete with famous co-stars, in which she invariably turns in a charming performance and wears some of the most lavish costumes ever created for the movies. These films include A Breath of Scandal (1960), Madame Sans-Gêne (1962), Heller in Pink Tights (1960) and More Than A Miracle (1967).
She also recorded well over two dozen songs throughout her career including a best-selling album of comedic songs with Peter Sellers and reportedly had to fend off his romantic advances. It was partly due to Sellers' extreme infatuation with Loren that he split with his first wife Anne Howe. Loren has made it clear to numerous biographers that Seller's affections were only reciprocated platonically.
Her struggles to have children were of worldwide interest. After suffering two very physically and emotionally painful public miscarriages, she was referred to Swiss fertility specialist Dr. Huebert de Watteville. He determined that Loren was deficient in estrogen and after prescribing regular injections of the hormone and bed rest for her entire term, Sophia became a mother. She has proudly stated that being a mother meant more to her than anything else she had accomplished in her life.
After becoming a mother of two sons her career slowed down and Loren moved into her 40s and 50s with roles in films including the last De Sica movie, The Voyage, with Richard Burton and Ettore Scola's A Special Day with Mastroianni. In 1980, she portrayed herself, as well as her mother, in a made-for-television biopic adaptation of her autobiography. Actresses, Ritza Brown and Chiara Ferrari played Loren at younger ages. She made headlines in 1982 when she served an 18-day prison sentence in Italy on tax evasion charges, a fact that didn't damage her career or popularity.
In her 60s, Loren became selective in choosing her films and ventured into various areas of business including cook books, eyewear, jewelry and perfume. She also made well-received appearances in Robert Altman's Ready to Wear and the 1995 comedy Grumpier Old Men playing a femme fatale opposite Walter Matthau and Jack Lemmon. In 1991, Loren received an honorary Academy Award for her contribution to world cinema and was declared "one of the world cinema's treasures".
In 1995, she received the Golden Globe Cecil B. DeMille Award. She made frequent appearances at awards ceremonies, and she presented Federico Fellini with his Honorary Oscar. In 2009 Loren stated on Larry King Live that Fellini had planned to direct her in a film shortly before his death in 1993. Throughout the 1990s and 2000s, Loren was selective about choosing her films and ventured into various areas of business, including cook books, eyewear, jewelry and perfume.
In 2001, Loren received a Special Grand Prix of the Americas Award at the Montreal World Film Festival for her body of work. Her acting projects during this period were made in Italy, including the independent film Between Strangers (2002), directed by her son Eduoardo, and the television miniseries Lives of the Saints (2004).
In 2009, she co-presented the category of Best Actress at the 81st Academy Awards. After five years off the set and fourteen years since she starred in a prominent US theatrical film, Loren starred in Rob Marshall's film version of Nine, based on the Broadway musical that tells the story of a director whose midlife crisis causes him to struggle to complete his latest film; he is forced to balance the influences of numerous formative women in his life, including his deceased mother. Loren was Marshall's first choice to portray the mother. The film also stars Daniel Day-Lewis, Penelope Cruz, Kate Hudson, Marion Cotillard, and Nicole Kidman. During the red carpet for the 81st Academy Awards, Loren expressed how much she enjoyed the filming. Loren was nominated for a Screen Actors Guild Award for her part in the film.
Awards
1958: Venice Film Festival: Best Actress, The Black Orchid
1958: Cannes Film Festival: Best Actress, The Black Orchid
1961: New York Film Critics Circle: Best Actress, Two Women
1961: Cannes Film Festival: Best Actress, Two Women
1961: British Film Academy: Best Foreign Actress, Two Women
1961: Oscar: Best Actress, Two Women
1963/64/68/76: Golden Globe: Female World Film Favorite
1977: NATO Star of the Year
1990: Honorary Cesar: Lifetime Achievement
1990: Honorary Oscar as "one of the genuine treasures of world cinema"
1991: Honorary Cesar
1994: Berlin Film Festival: Silver Bear, Lifetime Achievement
1995: Cecil B. DeMille Award: service to filmmaking (by Hollywood Foreign Press Association)
1996: NATO/ShoWest Lifetime Achievement
1998: Venice Film Festival Golden Lion: Career Achievement
1999: David Di Donatello Prize: Career Achievement