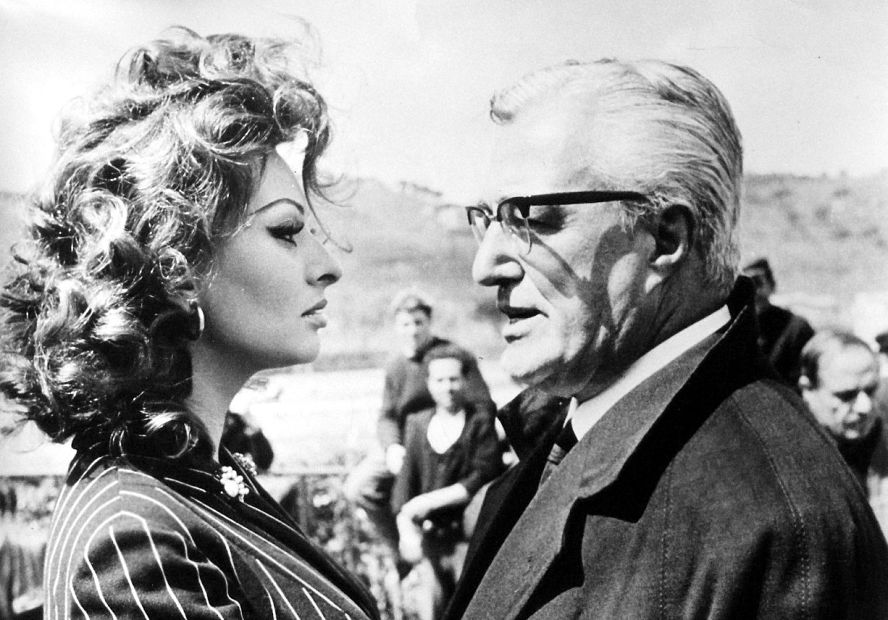 Vittorio De Sica directed 34 feature films, for which he won numerous international prizes. He was honored with four Academy Awards: two Special Awards, preceding the creation of the Best Foreign Film category, for "Shoeshine" in 1947, and "The Bicycle Thief" in 1949, and Best Foreign Film Awards for "Yesterday, Today and Tomorrow" in 1964, and The Garden of the Finzi-Continis in 1971.
Movies by and with Vittorio De Sica
De Sica was born in 1902 in Sora, near Rome, and grew up in Naples in a middle-class family. His father, Umberto De Sica, a bank clerk with a penchant for show business, encouraged his good-looking son to pursue a stage career. At 16, he appeared in the film "The Clemenceau Affair." His career took off in the 1920s when he joined a local theater company and became a matinee idol. He later formed his own company, producing plays and co-starring with his first wife, Giuditta Rissone. At the same time, he made a name for himself as a suave leading man in Italian films, and became immensely popular with female audiences.
During World War II, De Sica turned to directing. His first four films were routine light productions in the tradition of the Italian cinema of the day. But his fifth, "The Children Are Watching Us," was a mature, perceptive, and deeply human work about the impact of adult folly on a child's innocent mind. The film marked the beginning of De Sica's collaboration with author and screenwriter Cesare Zavattini, a creative relationship that was to give the world two of the most significant films of the Italian neorealism movement, "Shoeshine" and "The Bicycle Thief."
With no money available to produce his films, De Sica initiated the use of real locations and non-professional actors. Using available light and documentary effects, he explored the relationship between working and lower-class characters in an indifferent, and often hostile social and political environment. The result was gritty and searing storytelling that not only bared the truth about the harsh conditions inflicted on Italy's poor, but also represented a radical break from filmmaking conventions. In 1948, "Shoeshine" received a Special Academy Award, accompanied by a citation which read: "The high quality of this motion picture, brought to eloquent life in a country scarred by war, is proof to the world that the creative spirit can triumph over adversity." In fact, the film was the impetus for the creation of an Oscar for Best Foreign Language Film. Two years later, De Sica would again win a Special Academy Award for "The Bicycle Thief," a work which is widely accepted as one of the greatest films of all time.
De Sica's next collaboration with Zavattini was the satirical fantasy, "Miracle in Milan" (1950), which wavered between optimism and despair in its allegorical treatment of the plight of the poor in an industrial society. "Umberto D" (1952), a sad, disturbing film-poem about old age and loneliness, was De Sica's last neorealist film and temporarily his last masterpiece. With the notable exception of "The Roof" (1956) and "Two Women" (1960), for which Sophia Loren won an Oscar for Best Actress, his subsequent output as a director was for a long while markedly less inspired and significant. He had a few box-office hits such as "Marriage Italian Style" and "Yesterday, Today and Tomorrow," both in 1964, but critics and audiences alike had concluded that the aging director had lost his touch.
To finance his directorial efforts, De Sica worked as an actor throughout his career. He turned almost exclusively to acting in the late 1950s, enjoying great popularity in the role of the rural police officer in Comencini's "Bread Love and Dreams" (1954), and in a subsequent comedy series of the same name co-starring Gina Lollobrigida. He was at his best playing light roles requiring deft irony and flashy charm, but proved himself capable of a solid dramatic performance in Rossellini's "General Della Rovere" (1959).
By the end of the 1960s, De Sica seemed to have settled on ending his directing career in mediocrity, when he made a dramatic comeback with The Garden of the Finzi-Continis , produced by Arthur Cohn. The director's next movie was "A Brief Vacation" (1973), a moving film, also produced by Arthur Cohn, about a working-class Italian woman's first taste of freedom in a society dominated by males. His last film, "The Voyage" (1974), was based on a novella by Pirandello. Vittorio De Sica died in 1974 at the age of 72.
Selected Filmography
Gli uomini che mascalzoni (1932), Il signor Max (1937), Rose scarlatte (1939), Grandi magazzini (1939), Maddalena, zero in condotta (1940), Teresa Venerdì (1941), I bambini ci guardano (The Children Are Watching Us) (1942), Sciuscià (Shoeshine) (1946), Ladri di biciclette (Bicycle Thieves) (1948), Miracolo a Milano (Miracle in Milan) (1951), Umberto D. (1952), Pane, amore e fantasia (Bread, Love and Dreams) (1953), L'oro di Napoli (The Gold of Naples) (1954), The Monte Carlo Story (1957), La Ciociara (Two Women) (1961), Boccaccio '70 (segment La riffa) (1962), Ieri, oggi e domani (Yesterday, Today and Tomorrow) (1963), Matrimonio all'italiana