A new food trend in traditional Abruzzo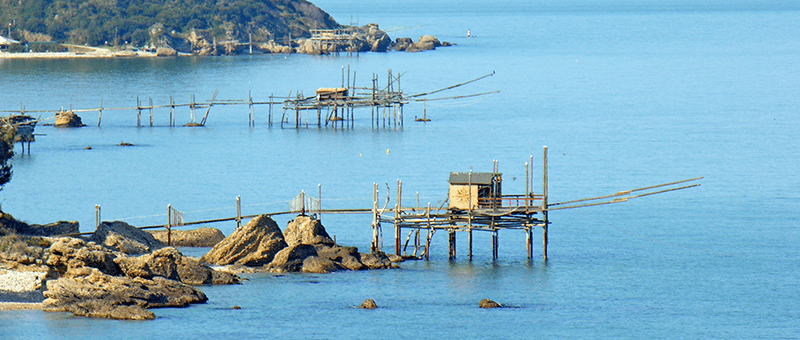 Who knew that in the middle of the Adriatic Coast, between Ortona and Vasto, rises a beautiful road called Coast of Trabocchi (trabocco is an ancient fishing machine still in use today), that is not only popular for its marvelous landscape, but also for its traditional food and recipes.
Among others is the village of San Vito Chietino (around 5.000 inhabitants), always considered an attraction for gourmet food by visitors from all around the country.
Innumerable restaurants host thousands of people searching for the traditional local dishes such as fish soup, stuffed mussels, cheese and eggs (cace e ove), pizza and vegetables (pizza e foje), risotto alla marinara and more. Every dish is still respecting the old recipes.
But nowadays the must that every tourist has to follow driving along this coast is to visit the kiosks or fish markets selling take away fried seafood. For only a few Euros one can enjoy a rich portion of golden, hot fried fresh seafood (fritto misto, mostly consisting of squid and small fish), only enriched by a piece of bread and lemon.
Every day at lunch-time and dinner-time, never-ending queues wait for their meal, not comfortably sitting in a cool restaurant, but dining outdoors, on the road, in little shops, often painted in blue and white or simply on hot footpaths.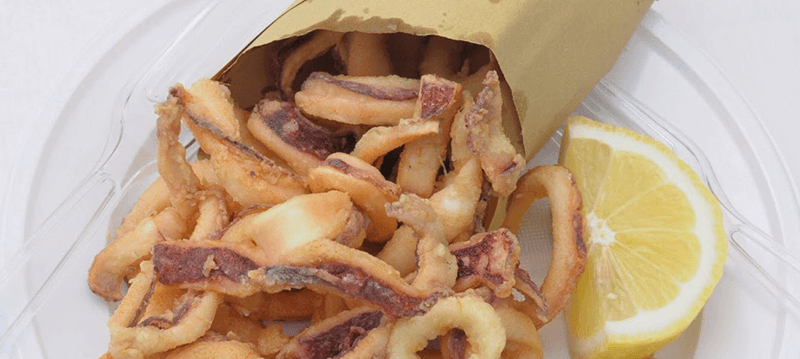 What in UK the traditional fish and chips is now considered a worldwide phenomenon, here, on this beautiful coast, it's a new trend! The recipe of the take away fried seafood is extremely simple: you only have to clean the calamari, cut them and coat them with yellow (corn) flour… and then put them in hot extra-virgin olive oil mixed with sunflower oil or other vegetable oil. Try to cook this dish at home for a delicious and quick meal.
However, eating fritto misto after have been waiting for an hour, sitting on a bench in the city centre or along the beach…. has no price!!!