Learning basic conversation in Italian can open doors to truly immerse yourself into the language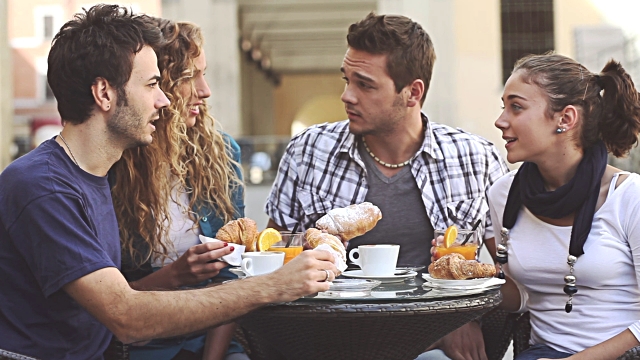 Someone could argue that before starting to learn and speak Italian phrases one should need to learn proper grammar. Italian is no exception. And there are many, many rules and irregular verbs, and so on. And a few good books can really help you with that.
But we all learn to speak and converse since the early ages, and we do it by listening and associating words with objects and situations. When we talk about immersion we think of being in a country with a different culture and language, the need to talk to people, ask and answer questions. If nobody speaks your language you are "forced" to speak theirs. It's almost natural instinct.
This is why many modern language courses are designed to provide the opportunity to practice your skills in a simulated scenario, being at a store, at the station or airport, meeting someone, etc.
There are Italian phrases that everyone should learn, regardless of their future travel plans, being a vacation in Italy or a business trip.
One last thing you should remember is that there is a formal and an informal way of phrasing depending on who you are talking to. Usually when meeting someone at an office or institution, the station, a store, or any other person you do not know you would use the formal form which consists of using the third female person as subject/object.
Question: How are You?
Formal: (lei) Come sta?
Informal: (tu) Come stai?
Answer:
Formal: Bene grazie. E lei?
Informal: Bene grazie. E tu?
Question: What's your name?
Formal: (lei) Come si chiama?
Informal: (tu) Come ti chiami?
Answer:
Mi chiamo….
It's OK to use informal (tu, te, ti) when being introduced to a new friend or a younger adult. You can also ask if it's OK to use informal: Possiamo darci del tu?
Or the other person could just say: Diamoci del tu before you ask.
Instead of giving you another set of common Italian phrases we suggest to get a book such as Rick Steves' Italian Phrase Book & Dictionary.
If you like to use the web, we suggest a few websites that have free Italian phrases.
Fodor's has a selection of commonly used Italian phrases. In addition to a brief introduction to the Italian language, there are sections for Italian Phrases in various situations, greetings, directions, shopping, numbers, dining out and other basic phrases.
Dummies also has a selection of Italian phrases and common words to get you started.
We also recommend Linguanaut for their introduction to Italian phrases with audio so you can listen to the correct pronunciation.
Ielanguages also carries several Italian phrases with audio.
ReidsItaly has a nice selection of Italian phrases divided by category such as travel, lodging, dining, and more.
Would you like to suggest a website with Italian Phrases? Contact us.