Donato di Niccolò di Betto Bardi (c. 1386 – December 13, 1466), better known as Donatello, was an early Renaissance sculptor from Florence. He studied classical sculpture, and used this to develop a fully Renaissance style in sculpture, whose periods in Rome, Padua and Siena introduced to other parts of Italy a long and productive career.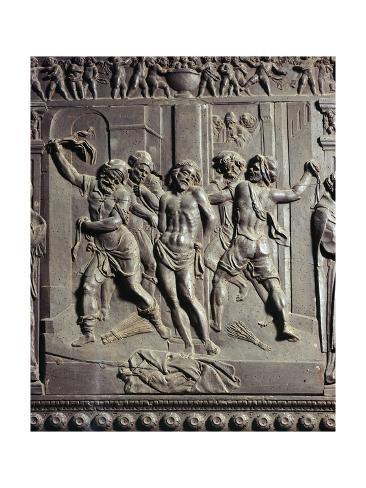 He worked in stone, bronze, wood, clay, stucco and wax, and had several assistants, with four perhaps being a typical number. Though his best-known works were mostly statues in the round, he developed a new, very shallow, type of bas-relief for small works, and a good deal of his output was larger architectural reliefs.
Donatello was educated at the home of the Martellis, a wealthy and influential Florentine family of bankers and art patrons closely tied to the Medici family. It was here that Donatello probably first received artistic training from a local goldsmith. He learned metallurgy and the fabrication of metals and other substances.
In 1403, he apprenticed with Florence metalsmith and sculptor Lorenzo Ghiberti. A few years later, Ghiberti was commissioned to create the bronze doors for the Baptistery of the Florence Cathedral, beating out rival artist Filippo Brunelleschi. Donatello assisted Ghiberti in creating the cathedral doors.
By 1408, Donatello was back in Florence at the workshops of the cathedral. That year, he completed the life-sized marble sculpture, David. The figure follows a Gothic style, popular at the time, with long graceful lines and an expressionless face.
The work reflects the influences of sculptors of the time. Technically, it's very well executed, but it lacks the emotional style and innovative technique that would mark Donatello's later work.
Donatello had nurtured a close and lucrative relationship with Cosimo de' Medici in Florence. In 1430, the eminent art patron commissioned Donatello to do another statue of David, this time in bronze. This is probably Donatello's most famous work.
The sculpture is fully independent from any architectural surroundings that might support it. Standing a little over five feet tall, David represents an allegory of civic virtue triumphing over brutality and irrationality.
His lifelong friendship with the Medici family earned him a retirement allowance to live on the rest of his life. He died of unknown causes on December 13, 1466, in Florence.