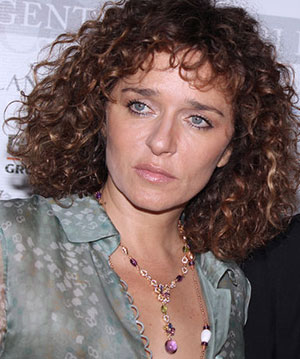 Synopsis
Irene lives alone on the coastline outside Rome. To her father and her married lover, she's a student. In reality, she often travels to Mexico where she can legally buy a powerful barbiturate.
Working under the name of Miele ("Honey"), her clandestine job is to help terminally-ill people to die with dignity by giving them the drug. One day she supplies a new "client" with a fatal dose, only to find out he's perfectly healthy but tired of life. Irene is determined not to be responsible for his suicide. From this point on, Irene and Grimaldi are unwillingly locked in an intense and moving relationship which will change Irene's life forever.
Q & A with Valeria Golino
How did you come across the novel?
Almost three years ago I read a very interesting review of the novel, the theme attracted me enormously. The writer was hiding under the pseudonym Angela del Fabbro which made me think that she might be shrouding her identity because she was the same character as Miele, and doing an illegal job. Also, the book was written in first person and was very detailed, which intrigued me even more. It made me feel that I was dealing with a very authentic story. It was only a year later, while we were already way deep into the script, that we found out that the author was Mauro Covachic, a well known novelist.
What was it about the novel that made you want to make it the subject of your first feature film as a director?
First of all, the subject of mercy killing is taboo in Italy, much more so than in any other European country, because of the Vatican influence and of our catholic imprint. But I feel that whereas the Italian people are ready to address this and other ethical issues, the politicians are not. Also, I wanted to make the film because the novel had a very cinematic material. Despite the gravity of the subject, the book had a lot of visual potential. The protagonist, Miele, has a powerful vitality, even more pronounced because of her dealing with pain and death. That contrast attracted me.
The subject of "mercy killing" is certainly a very current one. While the film is as much about a young woman's growth as an examination of the morals of "mercy killing", what are your thoughts on the subject?
I believe every human being should have the right to choose over their body, their life, and how to end it. Having said that, I don't mean the film to be a manifesto. In fact it doesn't give answers, it only poses questions. I would like to think that the film is about shifting convictions, prejudices and the fears that we all have.
Have you wanted to direct for a long time?
Vaguely so. I love cinema and photography, and having made so many movies as an actress I learned a lot of things without even realizing it. I never consciously thought to become a director until three years ago when I was asked to direct a short movie (Armandino e il madre). During the shoot I had my private epiphany: probably I had a calling I never knew was there…:-)
Does your experience as an actress make it easier to direct actors?
I suppose it does. I have a lot of empathy with actors, and gratitude.
Was casting a relatively straightforward process?
I did a lot of auditions, but actually the two main roles (Jasmine Trinca as Irene /Miele and Carlo Cecchi as Grimaldi) invaded my imagination and my co-writers' since day one.
What did you look for when selecting the key crew?
I wanted to have a crew of friends, of people I had worked with, that knew me well and would be patient with a beginner. At the same time, people that were inspiring and inspired. The only new addition was Gergely Poharnok, an Hungarian DP, whose work I ran into by chance and immediately felt connected to.
HONEY – (MIELE)
A film by Valeria Golino
Starring Jasmine Trinca and Carlo Cecchi
OFFICIAL SELECTION
Cannes Film Festival – Un Certain Regard
Venice Film Festival – Venice Days
Chicago International Film Festival
WINNER
Special Mention – Ecumenical Jury – Cannes Film Festival
Nominee – Discovery Award – European Film Awards
In Italian with English Subtitles/96 Minutes/HD/2.35
Trailer: https://www.hulu.com/watch/602282
Director: Valeria Golino
Screenwriters: Valeria Golino – Francesca Marciano
Based on the Novel A NOME TUO by Mauro Covacich
Cast:
Jasmine Trinca, Carlo Cecchi, Vinicio Marchioni, Barbara Ronchi, Iaia Forte