A living museum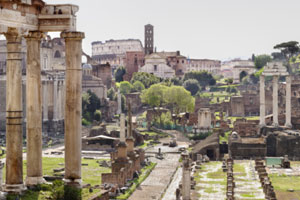 Italy is a living museum. Her public structures comprise vivid, visible art and architecture that stand as testaments to the country's history and culture. The Roman and Greek empires influenced early Italian design with their mighty temples and impressive amphitheaters, while Renaissance, Baroque and Gothic design later played important parts in inspiring both architects and artists in the centuries to come. Their tangible, timeless legacies can be witnessed in every major Italian city and town.
Few countries can claim as extensive a heritage of artistic expression. To experience Italy's art firsthand is to touch the soul of the country. From archeological sites to architecture, museums and galleries, you will discover the many ways Italy's craftsmen and artists have articulated their passion over thousands of years.
The arts
Nowhere on earth are the performing arts celebrated so joyously as in Italy. From drama to opera to music to film, there are many places where you can indulge your particular passion.
The movies
Italy's cities, villages, countryside and coastlines comprise the most beautiful, natural movie set on earth. Tread the cobblestones of Rome where Audrey Hepburn and Gregory Peck rode on a scooter. Experience Tuscany's rolling hills where Diane Lane found solace. Lose yourself in the landscape of Mastroianni, La Loren, Fellini, Bertolucci, Cardinale, Pasolini and Antonioni. Indulge in some of the country's finest film festivals.
The food
Italian food is an extraordinary feast for the senses. Ranging from simple to hearty, sweet to spicy, subtle to strong, each dish and delicacy is prepared with the freshest of ingredients. It's no secret that Italy's cuisine is incomparable, but you may not know quite how to enjoy it to the fullest.
Made in Italy
Italian goods are renowned for their quality, design and style, with every town offering unique craftsmanship. From Milan's peerless fashion designs to Como's silk and Cremona's violins; from the marble of Massa Carrara, Murano's timeless Venetian glassware and the genius of Piedmont's goldsmiths to Ravenna's mosaics and the ceramic beauties of Vietri sul Mare; Italy is a shopper's and gift-giver's wonderland where you always find more than you bargained for.
Spas
Rich in thermal and mineral waters, with a mild climate and stunning scenery, Italy has long been a destination for spa tourism, for therapeutic or pampering reasons. Since Roman times taking care of and cleansing the body has been a central part of the culture, as borne out by famed, popular spa sites such as Abano, Salsomaggiore, Chianciano, Montecatini, Fiuggi and Ischia. These are ideal holiday resorts in their own right, close to historical artworks and places of great beauty, featuring world-class accommodations.
The weather
Italy's weather is mild, thanks to the moderating influence of the seas and the Alps that protect her from north winds, but conditions vary considerably according to how far one is from these two elements. The winter is very cold in the Alps, misty in the Po Plain and the central Apennines; mild and even warm on the Ligurian coast, the Neapolitan coast and in Sicily. The summer is hot and dry, but this is offset by coastal breezes, while in the Apennines and Alps it is pleasantly cool.
The landscape

Italy's northern regions are a symphony of breathtaking contrasts. Liguria stretches along the Mediterranean, and the jagged peaks of the Alps extend throughout Valle d'Aosta and Piedmont, complemented by Lombardy's rolling plains. The snowy Dolomites provide the backdrop to the Trentino Alto-Adige and the Veneto regions, while Venice and the sea maintain their delicate, dramatic relationship and the region of Friuli Venezia Giulia yields a treasure trove of Roman remains.
Central Italy abounds with diverse landscapes and towns rich in art, architecture and culture. From Tuscany's transcendent treasures amid countless towers, palaces and churches, to the "green heart" of Le Marche and Umbria, to the lush Po Delta in Emilia Romagna and Lazio, home to Rome and the independent papal state, Vatican City.
Blending sheer spectacle with a plethora of architectural remains, the south of Italy presents much to enchant today's visitor. See the breathtaking Roman ruins preserved at Pompeii, the Greek influence and magnificent beaches of Sicily and the mystifying ancient structures in Sardinia called nuraghi. Admire the Romanesque and Baroque stylings from Puglia to Campania. Bliss out on the Amalfi Coast in Campania or lose yourself in the forested landscape of Abruzzo and Molise, the rugged countryside and bustling fishing ports of Basilicata and Calabria.