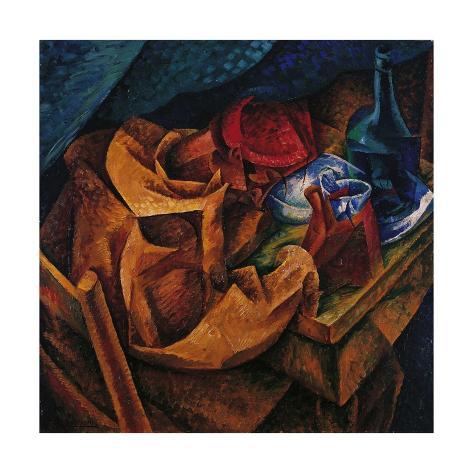 Umberto Boccioni, Futurist theoretician, painter, and sculptor, was born in 1882 in Reggio Calabria and was a graduate of the Technical Institute of Catania when he began to study art in Rome. His earliest work was romantic and strongly influenced by the floral arabesques of Art Nouveau.
In 1901, Boccioni and his friend Gino Severini studied Divisionism with Balla, but Boccioni did not begin to apply its principles until about 1908, when he moved to Milan and met F. T. Martinetti, the leader of the literary Futurist movement. Martinetti advocated the overthrow of old traditions and institutions and the exaltation of speed, dynamism, and the crueler aspects of modern life. He launched his movement in a Manifesto published in Paris in 1909, horrifying the middle classes and exciting intellectuals.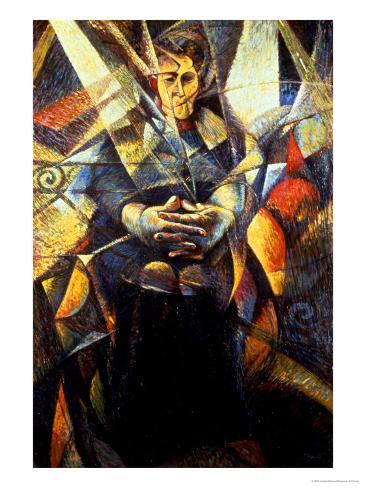 By 1912, Futurism had spread the field of art, first with a second Manifesto, written principally by Boccioni and signed by Severini, Balla, Carra, and Russolo, then with an astonishing exhibition in Paris. Futurism breaks down form by eliminating horizontals and verticals for which it substitutes whirling lines, forcing a reaction of forms, movement, and color to light and shade. The viewer is drawn into the painting as if into the vortex, and the stimulus is ecstatic rather than static as in Cubist disintegration.
Although at first quite figurative, Boccioni's painting moved closer and closer to abstraction, combining lines and planes to suggest both the recognizable object and its movement through space. Futurism exalted war as a phase of modern, violent life. In 1915, Boccioni joined the Italian Army as a volunteer cyclist. Released after a few months, he returned to his easel to paint in a more restrained manner much closer to that of Cezanne.
His career was unfortunately cut short when he was recalled to duty, and died of a fall from a horse in 1916. War killed not only Futurism's most gifted artist, but also the movement itself, although its revolutionary approach to the problems of the artist in modern society has influenced every succeeding art movement.