The most beautiful Italian lighting available in US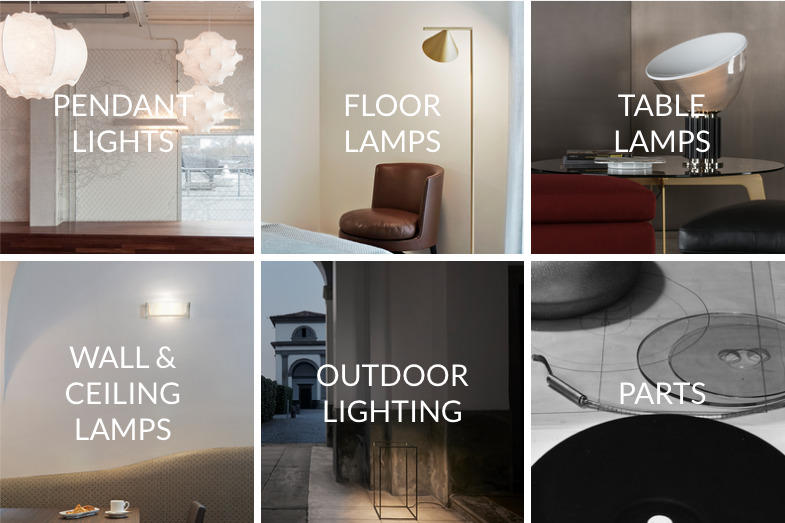 Perhaps you've seen beautiful Italian lighting such as floor lamps, chandeliers, table lamps on a TV show (the floor lamp Arco in Modern Family), or in a movie, or in an upscale lighting store.
Most of those lamps are made by an Italian company called Flos. Flos was born in Merano, Italy, in 1962 as a way to create conceptual lighting.
Since the very beginning, famous designers and architects were called to express their best ideas in lighting: the Castiglioni brothers and Tobia Scarpa were some of the first, who were followed by Philippe Starck, Konstantin Grcic, Jasper Morrison, Marc Newson, Antonio Citterio, Patricia Urquiola, Marcel Wanders, to name a few.
Thanks to the successful results Flos soon became an internationally recognized name in modern Italian design and its creations have been featured in thousands of homes and public spaces worldwide.
The company has always followed its "Flosophy":
Be THE solution to all lighting needs
Retain identity as a true "Italian Design Factory"
Work with the best designers
Invest in researching innovative materials and technology
Create products with iconic and symbolic appeal
Here are some of the most famous Italian lighting masterpieces by Flos and its designers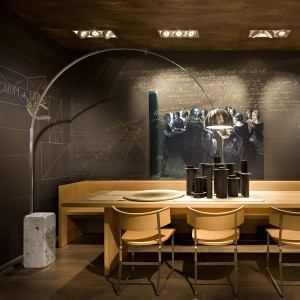 ARCO
The Arco lamp has been in continuous production since 1962 and is now considered a design classic. One of the unique features of this design is that every part has a function including the beveled corners (designed not to hurt) and the hole for easier lifting of the base.
This modern floor lamp comes with a genuine Carrara marble base that supports a spun aluminum reflector via a curved stainless steel adjustable stem. The height extends to almost 7-feet, allowing placement of a table or a couch underneath. The Arco floor lamp is available in LED or incandescent and provides direct and indirect light. Stainless steel finish.
On a side note, this lamp has made its appearance in the entertainment world appearing in the James Bond sequel, "Diamonds Are Forever" and "The Italian Job".
Inspiration Behind the Design: The Castiglioni brothers loved to play around with designs that were both technically innovative & visually appealing. Taking inspiration from a mere streetlight, the brothers wanted to create a lamp that people did not have to walk around. For this to work, the base had to be at least two meters away from the actual light. They used commercially available parts and found that curved steel angle iron worked perfectly with their design. They opted for a marble base as a counterweight instead of concrete because the same weight took up less space, and also because they could obtain a better finish for a lower cost.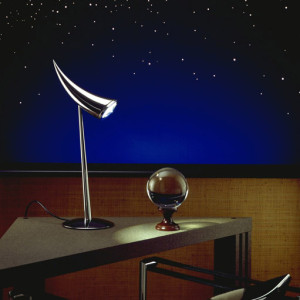 ARA
ARA table or desk lamp by Philippe Starck  comes in polished chrome providing direct illumination. Head adjusts to direct lighting throughout a 90 degree angle. In-line transformer has a quick connect plug for use with wire management.
Starck strongly believes that objects should "good" before being beautiful.
The designer has designed a wide range of objects from furniture to mail-order homes, motorbikes, mega-yachts, even artistic direction for space-travel projects.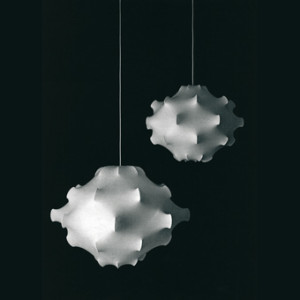 Taraxacum
Designed by Achille and Pier Giacomo Castiglioni, the pendant lamp provides diffused light. White powder coated internal steel structure sprayed with a unique cocoon resin to create the diffuser which is then protected by a transparent sprayed on finish. Achille Castiglioni's works are included in permanent collections in museums all around the world, including 14 pieces at the Museum of Modern Art (MoMA) in New York.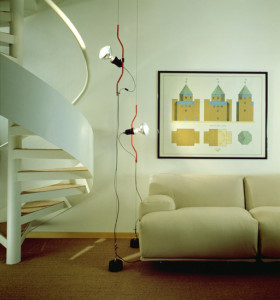 Parentesi
The Parentesi was born out of the collaboration between Achille Castiglioni and Pio Manzù in 1971.
The word "Parentesi" (Italian for "brackets" or "parenthesis") refers to the nickel-plated shaped tube on a ceiling to floor steel cable that is connected to the floor and ceiling and can reach up to 157″. The tube allows the lamp head to move vertically along the cable. The head fixture is an injection-molded black elastomer that comes with a switch.
The Parentesi light provides direct lighting and is available in black, nickel or red.
Inspiration behind the Design:
"Pio Manzù had the original idea for Parentesi. He thought up a fixed vertical boom and a cylindrical box with a slot for the light, which went up and down: you stopped it with a screw. He replaced the boom with a metal chord that, when bent creates friction and enables the lamp to be in position without requiring any screws." – Achille Castiglioni.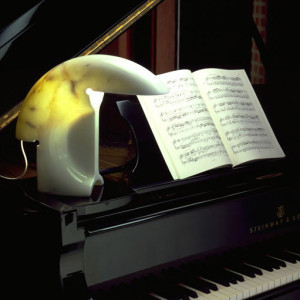 Biagio
Designed by Tobia Scarpa, this amazing table lamp was designed in 1968 and has been in production since then.
This modernist table light is carved out of a single piece of fine white Italian Carrara marble. The one of a kind shape of the Biagio demands attention as it represents class & elegance.
The Biagio lamp uses an incandescent bulb emitting soft direct light.
Inspiration Behind the Design:
Tobia Scarpa has tried to take advantage of the sophisticated, ultramodern geometry and natural shape that comes with valued materials like Carrara marble. This is extremely evident in the shape of the Biagio.
Take a look at the video on how the Biagio is made
There are many more lamps that show the wonderful design of Italian lighting. Visit FLOS USA
for more lamps and designers' biographies.