The most beautiful Italian lighting available in US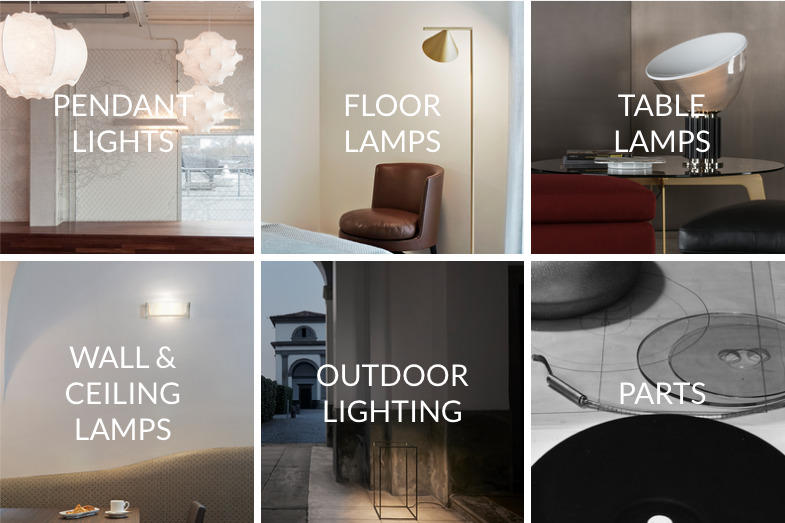 Perhaps you've seen beautiful Italian lighting such as floor lamps, chandeliers, table lamps on a TV show (the floor lamp Arco in Modern Family), or in a movie, or in an upscale lighting store.
Light, in its various forms, has been a fundamental aspect of human existence since the dawn of time. Beyond its utilitarian purpose of dispelling darkness, light has transcended into the realm of art and design, shaping our surroundings and evoking emotions. In this context, FLOS Lighting stands as a beacon of excellence, seamlessly merging technological innovation with artistic expression to redefine how we perceive and experience light.
Founded in 1962 by Dino Gavina and Cesare Cassina, FLOS emerged from the fertile grounds of Italy's design culture. From its inception, the company set out to revolutionize lighting by embracing daring creativity, sophisticated craftsmanship, and cutting-edge technology. FLOS quickly became synonymous with iconic designs that not only illuminated spaces but also elevated them to new aesthetic heights.
Central to FLOS's success is its commitment to collaboration with visionary designers, architects, and artists. This approach led to the creation of some of the most iconic lighting fixtures of the 20th and 21st centuries. From the timeless elegance of the Arco floor lamp by Achille and Pier Giacomo Castiglioni to the ethereal glow of the Skygarden pendant by Marcel Wanders, FLOS's portfolio is a testament to its ability to transform functional objects into sculptural masterpieces.
Innovation has always been at the heart of FLOS's design philosophy. The company consistently pushes the boundaries of technology and materials to achieve groundbreaking lighting solutions. The utilization of LED technology, for instance, allowed FLOS to reimagine the possibilities of light sources, enabling greater energy efficiency, durability, and design flexibility. FLOS's commitment to sustainable practices is evident through its incorporation of eco-friendly materials and energy-efficient technologies into its creations.
One of FLOS's standout traits is its ability to imbue each lighting fixture with a distinct narrative. A FLOS light is not merely an arrangement of materials and bulbs; it's a storytelling device that interacts with the space it inhabits and the individuals who encounter it. Whether it's the poetic simplicity of the Aim pendant by the Bouroullec brothers or the playful elegance of the Taraxacum chandelier by Achille Castiglioni, FLOS lights engage with users on an emotional level, evoking feelings that transcend the functional aspects of illumination.
FLOS's impact extends far beyond the realm of aesthetics. It has played a significant role in shaping contemporary design discourse by fostering a dialogue between form and function. By blurring the lines between art and utility, FLOS has prompted us to question the very nature of design and its role in our lives. The company's designs challenge our preconceived notions and invite us to see the world through a different lens, where light is not just a necessity but a source of inspiration.
In conclusion, FLOS Lighting has emerged as a paragon of design excellence, reshaping the way we perceive and interact with light. Through its collaborations, innovation, and unwavering dedication to artistic expression, FLOS has not only illuminated spaces but also our understanding of what lighting can be. It has reminded us that design is not limited to the functional, but can transcend into the realm of the extraordinary. As we bask in the glow of FLOS's creations, we are reminded that light is not just an element that dispels darkness, but a medium that kindles the flames of creativity and elevates our lived experiences.
The company has always followed its "Flosophy":
Be THE solution to all lighting needs
Retain identity as a true "Italian Design Factory"
Work with the best designers
Invest in researching innovative materials and technology
Create products with iconic and symbolic appeal
Here are some of the most famous Italian lighting masterpieces by Flos and its designers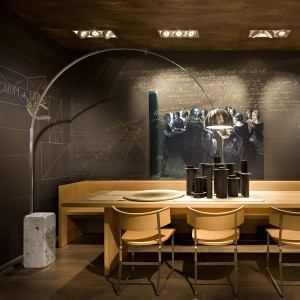 ARCO
The Arco lamp has been in continuous production since 1962 and is now considered a design classic. One of the unique features of this design is that every part has a function including the beveled corners (designed not to hurt) and the hole for easier lifting of the base.
This modern floor lamp comes with a genuine Carrara marble base that supports a spun aluminum reflector via a curved stainless steel adjustable stem. The height extends to almost 7-feet, allowing placement of a table or a couch underneath. The Arco floor lamp is available in LED or incandescent and provides direct and indirect light. Stainless steel finish.
On a side note, this lamp has made its appearance in the entertainment world appearing in the James Bond sequel, "Diamonds Are Forever" and "The Italian Job".
Inspiration Behind the Design: The Castiglioni brothers loved to play around with designs that were both technically innovative & visually appealing. Taking inspiration from a mere streetlight, the brothers wanted to create a lamp that people did not have to walk around. For this to work, the base had to be at least two meters away from the actual light. They used commercially available parts and found that curved steel angle iron worked perfectly with their design. They opted for a marble base as a counterweight instead of concrete because the same weight took up less space, and also because they could obtain a better finish for a lower cost.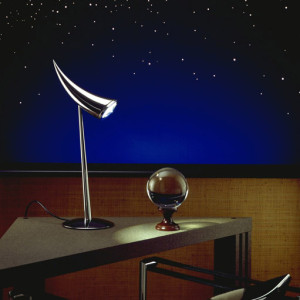 ARA
ARA table or desk lamp by Philippe Starck  comes in polished chrome providing direct illumination. Head adjusts to direct lighting throughout a 90 degree angle. In-line transformer has a quick connect plug for use with wire management.
Starck strongly believes that objects should "good" before being beautiful.
The designer has designed a wide range of objects from furniture to mail-order homes, motorbikes, mega-yachts, even artistic direction for space-travel projects.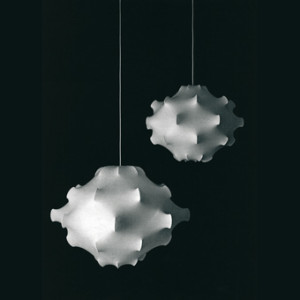 Taraxacum
Designed by Achille and Pier Giacomo Castiglioni, the pendant lamp provides diffused light. White powder coated internal steel structure sprayed with a unique cocoon resin to create the diffuser which is then protected by a transparent sprayed on finish. Achille Castiglioni's works are included in permanent collections in museums all around the world, including 14 pieces at the Museum of Modern Art (MoMA) in New York.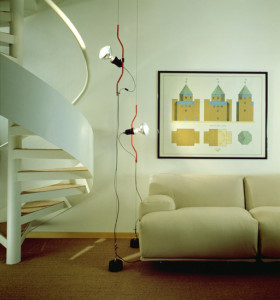 Parentesi
The Parentesi was born out of the collaboration between Achille Castiglioni and Pio Manzù in 1971.
The word "Parentesi" (Italian for "brackets" or "parenthesis") refers to the nickel-plated shaped tube on a ceiling to floor steel cable that is connected to the floor and ceiling and can reach up to 157″. The tube allows the lamp head to move vertically along the cable. The head fixture is an injection-molded black elastomer that comes with a switch.
The Parentesi light provides direct lighting and is available in black, nickel or red.
Inspiration behind the Design:
"Pio Manzù had the original idea for Parentesi. He thought up a fixed vertical boom and a cylindrical box with a slot for the light, which went up and down: you stopped it with a screw. He replaced the boom with a metal chord that, when bent creates friction and enables the lamp to be in position without requiring any screws." – Achille Castiglioni.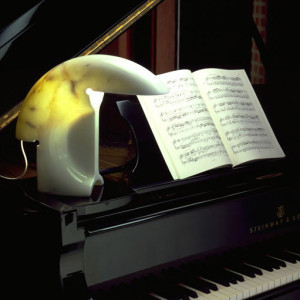 Biagio
Designed by Tobia Scarpa, this amazing table lamp was designed in 1968 and has been in production since then.
This modernist table light is carved out of a single piece of fine white Italian Carrara marble. The one of a kind shape of the Biagio demands attention as it represents class & elegance.
The Biagio lamp uses an incandescent bulb emitting soft direct light.
Inspiration Behind the Design:
Tobia Scarpa has tried to take advantage of the sophisticated, ultramodern geometry and natural shape that comes with valued materials like Carrara marble. This is extremely evident in the shape of the Biagio.
Take a look at the video on how the Biagio is made
There are many more lamps that show the wonderful design of Italian lighting. Visit FLOS USA
for more lamps and designers' biographies.