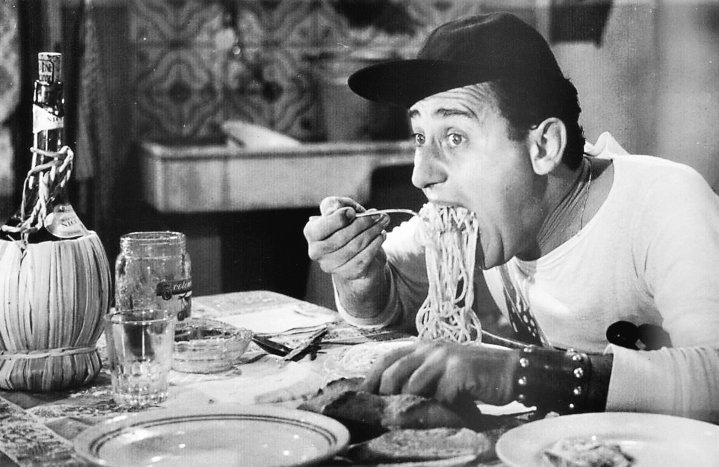 Born in Rome to a schoolteacher and a musician, Sordi enrolled in Milan's dramatic arts academy but was kicked out because of his thick Roman accent. Ironically, it was his accent that would later prove to be his trademark.
In a career that spanned seven decades, Sordi established himself as an icon of Italian cinema with his representative skill at both comedy and drama. His movie career began in the late working as a dubber for the Italian versions of Laurel and Hardy shorts, voicing Oliver Hardy.
Early roles included Fellini's The White Sheik in 1952, Fellini's I Vitelloni (1953), a movie about young slackers, in which he plays a weak, effeminate immature loafer and a starring role in Lo Scapolo (The Bachelor) playing a single man trying to find love.
In 1959 he appeared in Monicelli's The Great War, considered by many critics and film historians to be one of the best Italian comedies.
The Hollywood Foreign Press recognized his abilities when he was awarded a Golden Globe for Best Motion Picture Actor in a Musical or Comedy for Il Diavolo (1963).
Sordi acted alongside Britain's David Niven in the World War II comedy The Best of Enemies and in 1965 he was in another highly regarded comedy, I Complessi (Complexes).
Sordi also succeeded in dramatic roles, most notablly in 1977's Un Borghese Piccolo Piccolo (An Average Little Man) in which he portrays a man whose son is killed in an armed robbery and sets out to exact revenge.
In 1984, he directed and coscripted Tutti Dentro (Everybody Inside), in which he played a magistrate who has warrants for corruption served on ministers and businessmen.
Alberto Sordi was really masterful in two broad roles: one being the one of the underdog, tribulating against injustices and prevarications, the other that of the prevaricator himself.
One has only to watch his performances as the returning emigrant unjustly convicted in Detenuto in attesa di giudizio or the miserly sub-proletarian teased by the old millionaire Bette Davis into endless card games where he hopes to find release from his poverty to appreciate his skills in the first role, while the rampant, unscrupolous doctor he plays in Il medico della mutua is the perfect example of his aptness at rendering characters who were both truly despicable and completely believable.
A little more should be said about Sordi's brilliant performance in the comedy released in the US about 1965 under the title "To Bed Or Not Too Bed". He is an apparently ordinary Italian fur merchant who, leaving his faithful, but somewhat dowdy, wife and kids, goes to Stockholm to buy furs. The long rail trip stretches on until the train gets on the car ferry between Denmark and Sweden. A long-legged blonde Scandinavian beauty falls asleep with her booted legs stretched between his in the compartment.
This is a preview of the exotic, erotic adventure he is to have. His fur buying done, he comes into social contact with the Swedes. He commits various comical gaffes due to the difference in cultures, like apologizing to the husband with whose wife he has had a bit of adventure. The last scene in Sweden has him engaging in a decadent game with the Swedes in which old used cars are driven out onto a frozen lake and smashed into each other. He returns to wife and family, delighted to see him back and never imagining his adventures.
Selected filmography
Lo Sceicco Bianco (1951) (The White Sheikh), I Vitelloni (1953) (Vitelloni), Il seduttore (1954) (The Seductor), Un americano a Roma (1954) (An american in Rome), Mi permette babbo (1956) (I Should Daddy), Il conte Max (1957) (The Count Max), La grande Guerra (1959) (The Great War), Tutti a casa (1960) (All at home), Il vigile (1960) (The Traffic Policeman), Gastone (1960) (Gaston), Una vita difficile (1961) (A Hard Life), Mafioso (1962) (Mafious), I due nemici (1962) (The Two Enemies), Those Magnificent Men in Their Flying Machines (1965) – Count Emilio Ponticelli, An Italian in America (1967), Il medico della mutua (1968) (The Physician of Health Service), Detenuto in attesa di giudizio (1971) (Convicted in waiting for judgement), Lo scopone scientifico (1972) (Scopone Scientifico), Un borghese piccolo piccolo (1971) (A very little middle-class man), Il marchese del Grillo (1981) (Marquis Del Grillo)
Awards
Sordi won five David di Donatello, Italy's most prestigious film award, and four awards for his works from the Italian National Syndicate of Film Journalists. He also received a Golden Lion for lifetime achievement at the Venice Film Festival in 1995, and The Golden Globe Award for his performance as an Italian labourer stranded in Sweden in To Bed or Not to Bed. In 1999, the city of Rome made him honorary mayor for a day to celebrate his eightieth birthday.
Death
Sordi died shortly before his eighty-third birthday following a heart attack, he was the last survivor of the golden era of Italian cinema.
A crowd of 250,000 people gathered to pay their last respects at his funeral. They cheered and clapped as Sordi's coffin arrived for the funeral at the Basilica of San Giovanni Laterano in Rome. The crowd watched the funeral service on big screens erected outside the cathedral. Millions more followed the ceremony as it was broadcast live on state television.
"When a loved one dies, a mass of memories and emotions crowd the minds of those who stay behind," said Cardinal Camillo Ruini in his funeral oration. "Since Alberto Sordi has died, this has happened to an entire city, an entire country." The crowd outside clapped and nodded as he spoke. Overhead, a small plane crossed over the basilica trailing a banner that read: "This time you've made us cry."
Chants of "Alberto" echoed around the square as policemen acting as pallbearers carried Sordi's coffin out after the service.
Tens of thousands of fans had queued to file silently past Sordi's open coffin ahead of the funeral as he lay in state in Rome's town hall, the Campidoglio, an honor only due before to Roman Emperors. The actor's death unleashed a wave of emotion not seen in Italy for years.