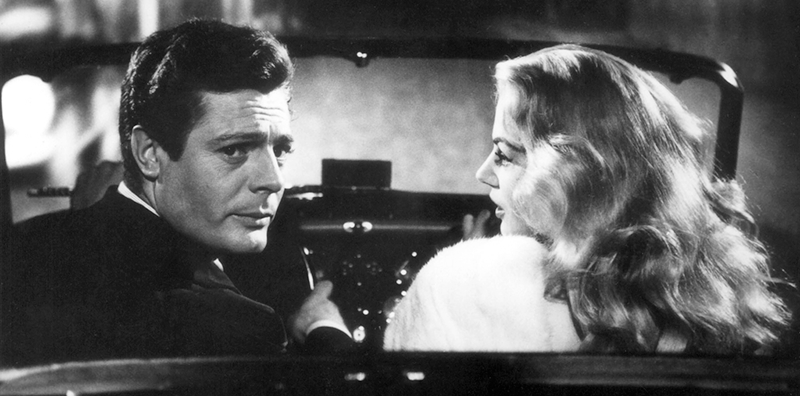 Marcello Mastroianni (September 28, 1924 – December 19, 1996) was an Academy Award nominated Italian film actor.

Born in Fontana Liri, a small village in the Apennines, Mastroianni grew up in Turin and Rome. During World War II he was interned in a Nazi prison, but he escaped and hid in Venice.

In 1945 he started working for a film company and began taking acting lessons. His film debut was in I Miserabili (from Victor Hugo's Les Misérables) in 1947.

Movies with Marcello Mastroianni

He soon became a major international star, starring in Big Deal on Madonna Street; and in Federico Fellini's La Dolce Vita with Anita Ekberg in 1960, where he played a disillusioned and self-loathing tabloid columnist who spends his days and nights exploring Rome's high society.

Mastroianni followed La Dolce Vita with another signature role, that of a film director who, amidst self-doubt and troubled love affairs, finds himself in a creative block while making a movie in Fellini's 8½.

Mastroianni was married to Italian actress Flora Carabella (1926 – 1999) from 1948 until his death. They had one child together, Barbara.

He also had a daughter, Chiara Mastroianni, with his longtime lover, the actress Catherine Deneuve; both Flora and Catherine were at his bedside when he died of pancreatic cancer at the age of 72.
Trivia
Father of Chiara Mastroianni and Barbara Mastroianni
Older brother of film editor Ruggero Mastroianni, who edited several of Marcello's films directed by Federico Fellini
From 1971 to 1975 he had an intense relationship with french actress Catherine Deneuve. She was at his bedside when he died, along with their daughter, Chiara Mastroianni.
Told interviewers that Federico Fellini hired him for Dolce vita, La (1960) because he had a "terribly ordinary face".
Uncle of Federica Mastroianni.
Federico Fellini nicknamed him "Snaporaz" while they are working on Dolce vita, La (1960); 20 years later this was the name of the character he played in Città delle donne, La (1980).
Since 1998, a "Marcello Mastroianni Award" is given to the best "first time" young actor/actress at the Venice Film Festival.
He is buried in the Cimitero Monumentale del Verano in Rome, Italy.
During his studies at the Centro Universiatio Teatrale, he got to know Luchino Visconti, who gave him a role in "Un Tram che si chiama desiderio" (A Streetcar Named Desire) under his direction. At that time, he also met Anna Magnani and Federico Fellini.
His three Oscar nominations for Divorzio all'italiana (1961), Giornata particolare, Una (1977), and Oci ciornie (1987) are the record for a performer in a foreign language film. The only other performers with multiple Oscar nominations for foreign language films are Sophia Loren, Liv Ullmann and Isabelle Adjani with two each.
Beyond the Latin Lover: Marcello Mastroianni, Masculinity, and Italian Cinema
Among his 40 films, Marcello Mastroianni played a homosexual, a cuckolded husband, a pregnant man and, as he said, "wretches, where sex didn't even enter the picture." Yet, as demonstrated in this fascinating study of his work, the film icon never shook the Don Giovanni image of his star turn in Fellini's La Dolce Vita.
It is the iconography of this virile Italian stereotype, the "Latin lover," that Reich puts under scrutiny here, and she provides an entertaining analysis of the evolution, manufacture and commodification of this supposed hypermasculinity.
Grounding her observations of the actor's many cinematic identities in an analysis of post-fascist Italy's transformation into an industrialized country, Reich points out that Mastroianni actually spent most of his career sending up the notion of "bella figura" (or masculine perfection), choosing, rather, to play the part of the "inetto" (or comic foil). His choice, she argues, reflects Italy's mid-century struggle for economic success and political consensus.
A delightful section on Mastroianni's work with leading lady Sophia Loren explains how the voluptuous actress not only playfully antagonized him in La fortuna di essere donna (Lucky to Be a Woman) and Matrimonio all'italiana (Marriage… Italian Style), but, in doing so, redefined Mastroianni's on-screen masculinity by opposing it with a new image of the "unruly woman."
While rather dense and academic, the book offers an engaging examination of how social conditioning informs gender identity. Even more captivating, however, is its insightful look into the dynamic career of one of film's enduring international icons, as both a lover and a loser.
41 photos. Copyright © Reed Business Information, a division of Reed Elsevier Inc. All rights reserved.
Available at amazon.com