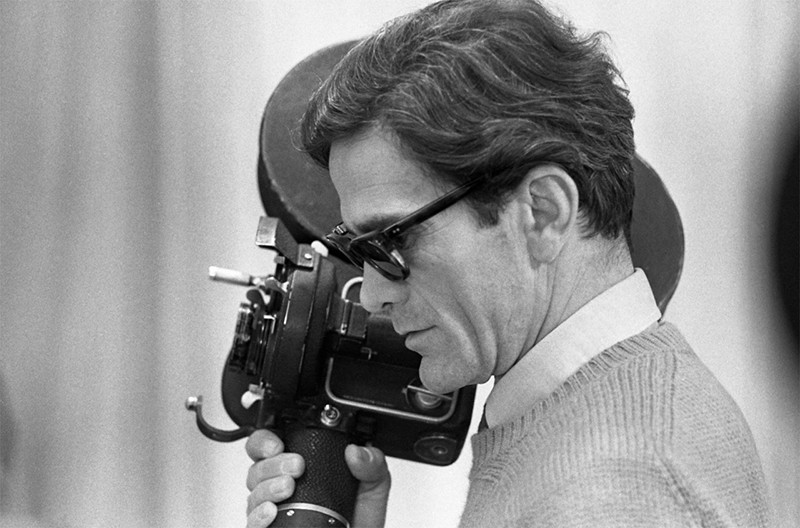 A case apart from the cultural and cinematographic landscape of the times is Pier Paolo Pasolini, director, actor and author, who in his work showed an opposition to the morals of the times.
A true anti-conformist, until his death (occurred under obscure circumstances in 1975) he never tired of fighting at all levels (literature, cinema and politics) to promote new values to conformism and the consumerism of the Italian society between the 1960s and the 1970s.
Pasolini's first films (including shocking short movies like "Che cosa sono le nuvole?" and "La ricotta") deeply impress for the extraordinary poetry and lyricism in every frame and scene shown to the audience.
Pasolini was never "in the closet" and never denied his preference for a communist ideology, he is considered one the most culturally influential person of his time, although his political views would be.
Biography
The following is an excerpt from a biography at wikipedia.org
Pier Paolo Pasolini was born on 5 March 1922 and pronounced dead on 2 November 1975
Pasolini was born in Bologna, traditionally one of the most leftist politically of Italian cities. Pasolini began writing poems at the age of seven, inspired by the natural beauty of Casarsa after the family moved there in 1926. In 1933 they moved again to Cremona in Lombardy, and later to Scandiano and Reggio Emilia.
Pasolini found it difficult to adapt to all these moves, though in the meantime he enlarged his poetry and literature readings (Dostoyevsky, Tolstoy, Shakespeare, Coleridge, Novalis) and left behind the religious fervour of his early years. In the Reggio Emilia high school, he met his first true friend, Luciano Serra. The two met again in Bologna, where Pasolini spent seven years while completing high school: here he cultivated new passions, including football. With other friends, including Ermes Parini, Franco Farolfi, Elio Meli, he formed a group dedicated to literary discussions.
In 1939 Pasolini graduated and entered the Literature College of the University of Bologna, discovering new themes such as philology and aesthetics of figurative arts. He also frequented the local cinema club. Pasolini always showed his friends a virile and strong exterior, totally hiding his interior travail.
In 1942, the family took shelter in Casarsa, considered a more tranquil place to wait for the conclusion of the World War II, a decision common among Italian military families. Here, for the first time, Pasolini had to face the erotic disquiet he had suppressed during his adolescent years. He wrote: "A continuous perturbation without images or words beats at my temples and obscures me"
On 26 January 1947 Pasolini wrote a declaration for the front page of the newspaper Libertà: "In our opinion, we think that currently only Communism is able to provide a new culture."
In 1954, Pasolini, who now worked for the literary section of Italian state radio, left his teaching job and moved to the Monteverde quarter, publishing La meglio gioventù, his first important collection of dialect poems. His first novel, Ragazzi di vita (English: Hustlers), was published in 1955. The work had great success but was poorly received by the PCI establishment and, most importantly, by the Italian government. It initiated a lawsuit against Pasolini and his editor, Garzanti. Though totally exonerated of any charge, Pasolini became a victim of insinuations, especially by the tabloid press.
In 1957, together with Sergio Citti, Pasolini collaborated on Federico Fellini's film Le notti di Cabiria, writing dialogue for the Roman dialect parts. In 1960 he made his debut as an actor in Il gobbo, and co-wrote Long Night in 1943. His first film as director and screenwriter is Accattone of 1961, again set in Rome's marginal quarters. The movie aroused controversy and scandal.
The late 1960s and early 1970s were the era of the so-called "student movement". Pasolini, though acknowledging the students' ideological motivations, thought them "anthropologically middle-class" and therefore destined to fail in their attempts at revolutionary change.
In 1972 he started to collaborate with the extreme-left association Lotta Continua, producing a documentary, 12 dicembre, concerning the Piazza Fontana bombing. The following year he began a collaboration for Italy's most renowned newspaper, Il Corriere della Sera.
A Carabinieri squad car stopped a speeding Alfa Romeo near Rome. The driver, Giuseppe (Pino) Pelosi, a 17 year old hustler, tried to run but was arrested for theft of the car, which was Pasolini's. Two hours later, the director's body was discovered. Pasolini was murdered by being run over several times with his own car, dying on November 2, 1975 on the beach at Ostia.
Twenty-nine years later, on 7 May 2005, Pelosi retracted his confession, which he said was made under the threat of violence to his family. He claimed that three people "with a southern accent" had committed the murder, insulting Pasolini as a "dirty communist".
Despite the Roman police's reopening of the murder case following Pelosi's statement of May 2005, the judges charged with investigating it determined the new elements insufficient for them to continue the inquiry.
Works
Pasolini's first novel Ragazzi di vita (1955) dealt with the Roman lumpenproletariat. The book caused obscenity charges to be filed against Pasolini, the first of many instances in which his art provoked legal problems. The movie Accattone (1961), also about the Roman underworld, also provoked controversy, and conservatives demanded stricter censorship by the government.
He wrote and directed the black-and-white The Gospel According to Matthew (1964). It is based on scripture, but adapted by Pasolini, and he is credited as writer. Jesus, a barefoot peasant, is played by Enrique Irazoqui. While filming it, Pasolini vowed to direct it from the "believer's point of view", but later said that upon viewing the completed work, he realized he had expressed his own beliefs.
In his 1966 film, Uccellacci e uccellini (literally Bad Birds and Little Birds but translated in English as The Hawks and the Sparrows), a picaresque—and at the same time mystic—fable, Pasolini hired the great Italian comedian Totò to work with Ninetto Davoli, the director's lover at the time and one of his preferred "naif" actors. It was a unique opportunity for Totò to demonstrate that he was a great dramatic actor as well.
In Teorema (Theorem, 1968), starring Terence Stamp as a mysterious stranger, Pasolini depicted the sexual coming-apart of a bourgeois family.
Later movies centered on sex-laden folklore, such as Boccaccio's Decameron (1971), Chaucer's The Canterbury Tales (1972), and Il fiore delle mille e una notte (literally The Flower of 1001 Nights, released in English as Arabian Nights, 1974). These films are usually grouped as the Trilogy of Life. While basing them on classics, Pasolini wrote the screenplays and took sole credit as writer.
His final work, Salò (Salò, or the 120 Days of Sodom, 1975), exceeded what most viewers could accept at the time in its explicit scenes of intensely sadistic violence. Based on the novel 120 Days of Sodom by Marquis de Sade, it is considered Pasolini's most controversial film. In May 2006, Time Out's Film Guide named it the "Most Controversial Film" of all time.