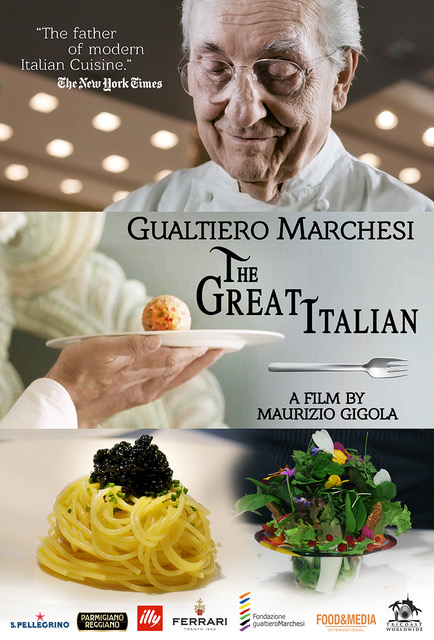 Gualtiero Marchesi is considered by many the founder of modern Italian cuisine.
The Great Italian explores the life and work of one the most revered and loved chefs who has revolutionized the traditional Italian cuisine and transformed every dish into a work of art featuring simplicity and purity.
The philosophy behind all this is to present food in its most simple way by using few quality ingredients and allow the natural flavors to shine.
Marchesi was born in Milan, Italy. His parents ran the hotel and restaurant "L'Albergo del Mercato" in Via Bezzecca. It was here that he had his first experiences in the kitchen. We also learn about Gualtiero Marchesi through interviews with various food experts, chefs, and artists who inspired his work.
Marchesi was an accomplished musician and follower of music. Through this he met his wife, a piano soloist and daughter of a famous soprano.
The film shows his amazing creations in beautiful cinematography, from sourcing the best products to the final presentation.
His restaurant in Milan on Via Bonvesin de la Riva was the first to receive three Michelin stars.
In September 1993, Marchesi moved out of Milan to the Franciacorta region, between Bergamo and Brescia. He opened the Ristorante di Erbusco in the Albereta Hotel where his vision of global cuisine took root and flourished.
His restaurant Gualtiero Marchesi di San Pietro all'Orto in Milan, opened in 1998 and is a mix of traditional cooking and modern technology. It is also a cooking academy.
If you love Italian food (who doesn't?) this is a must watch.
Watch the trailer.