What is more, you can book your own seats on the trains from home, on the Internet, and, with Eurostar, move comfortably and swiftly between cities. In some ways this brilliant advance in transport may, however, be a drawback, making the world ever smaller. It's like the ipad or the blackberry. It's all so easy now; we take things for granted.
In the "good" old days, the first stop out of Rome on the way to Florence was at La Storta, where lunch at the Trattoria del Quarto Secolo might have given you the strength to make it as far as Campagnano, or perhaps Sutri, depending on whether you were travelling in style or tourist class. Whatever else this meant, by the time you got to Florence, you were probably in need of at least five days rest, giving you time perhaps to see the major sights before moving on. At today's pace, you'll do a bit of shopping in Via dei Calzaiuoli, have a bistecca alla fiorentina for lunch, and then back on the Eurostar to Rome for tea at Babington's.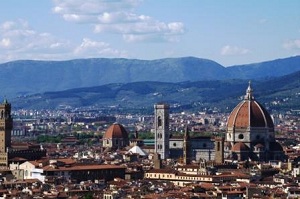 There are, however, variables and you don't have to be so hurried. Florence is a city of changeable weather, and I, for one, seem to have been quite unlucky on some of my visits. The surrounding mountains and the nature of the Arno valley, combine to create a microclimate that can be very cold in winter or very heavy in summer.
And then, of course, it rains sometimes.
The first time I went there was an anniversary of the 1966 floods, and it was very worryingly wet. I squelched about the streets encountering shopkeepers uneasily checking their defences and entering churches that still bore the tide marks half way up the walls. Subsequent trips have been icily cold, with winds like liquid nitrogen scouring down from the Casentino.
On other occasions it has been breathlessly hot, with brown clouds and an airlessness that gave even Michelangelo's implacable David something of a headache. On some occasions, however, I have been treated to perfection, and have greatly enjoyed afternoons in the Boboli gardens or on the Ex-Forte Belvedere (unfortunately closed at present for restoration, but a delightful place to picnic and view the city below).
The weather is not a huge issue, however, for Florence is a very internal city – indeed perhaps this is because of the weather. Masaccio's Adam and Eve, bitterly ashamed of themselves for their stupid disobedience (or simply annoyed that they got caught?) care not a fig leaf for the climate, as their punishment is fixed within the Brancacci Chapel, roofed over by the strength of Santa Maria del Carmine.
From another point of view, perhaps, one of the delights of Florence for many visitors is to take hot chocolate in Café Rivoire on Piazza della Signoria (though my preference is for un espresso at Gilli's on Piazza della Repubblica) and it's the internal glitter, the antique but well-maintained opulence, that is the attraction. Exteriors, by and large, in Florence (despite notable exceptions) don't count for much. Just look at the facades of San Lorenzo or Santo Spirito for confirmation – they just aren't there.
The streets don't really lend themselves to views; it is after all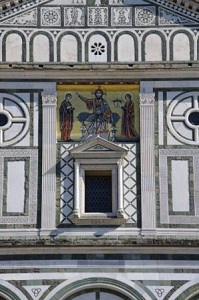 a cramped Roman settlement at a prestigious bridging point. Buildings
have risen on the original street plan and the streets have become deeper and darker.
It is very hard to match outsides with the glories within in this proud and self-contained city. Try to imagine what lies within the
rough-hewn fortress of the Palazzo Medici-Riccardi for instance, and then go and view Benozzo Gozzoli's "Journey of the Magi," (1459-1463) within.
The contrast between the vibrant colours and the exciting swirl of people and animals on the interior walls and the rugged, chipped and impregnable walls outside is, to use a local word, impressionante. Despite, of course, the irony that the walls within depict outside scenes. Almost
as if the whole of life is an illusion.
Or a piece of theatre, which is coincidentally what I stumbled on in the vicinity of the Piazza della Signoria one cold and rainy afternoon. Some hundred or more mature citizens of Florence had got themselves into medieval costumes and, with a variety of weapons and musical instruments, were parading in a stop-start, heavy, slow procession. Trumpets blared a tune, followed by martial drumbeats, and then, at someone's imperceptible signal, the four characters in charge of the trundling cannon, set fire to the charge and all were deafened to a standstill.
And then it started again. Police in escort, ladies and gentlemen, hand in hand. Striped pantaloons, red shoes, steel helmets, halberds, pikes, and flags – the works. As the crowd pressed in, the rain began to intensify, the whole troupe approached the Palazzo della Signoria, and, then…. it broke up. Tourists had their photos taken arm in arm with five hundred year old gentlemen; the party was over.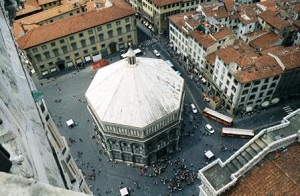 I asked a frightened looking policeman what it was all about. He hesitated, twitching like a rabbit with a stopwatch. "Una manifestazione," he explained. "Scusi, devo andare." Leaving me feeling like Alice in a slightly awkward wonderland.
And so, if it's a phoney world, why go there? Why does half the world knock on the door? Could it be that this is perhaps the only place in the world where you can see a fur coat on a bicycle? Could it be that this place has perhaps the greatest concentration of pictorial and sculptural riches anywhere in the world? As with so much, some of it is a matter of opinion. Some will argue that Michelangelo's David is overbearing and disproportionate and that Cellini's Perseus (and Donatello's David) are too pretty and posy.
But the arguments will continue, because of personal opinion, and informed opinion at that. Those that prefer Fra Angelico have plenty to see. Those who enjoy the brightness and mannerist exuberance of Pontormo in Santa Felicita cannot complain, while those who love Domenico Ghirlandaio have only to go to Santa Trinita if they cannot get into the Refectory of Ognissanti (recently elevated to be a Benedictine Abbey, after the Franciscans moved on).
Or, indeed, look inside Filippo Brunelleschi's dramatic and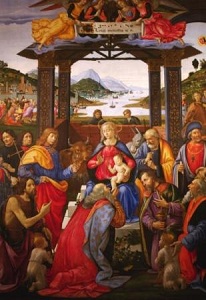 elegant Ospedale Degli Innocenti in the busy Piazza Santissima Annunziata. Within, apart from the offices of UNICEF, aptly housed in this ancient Foundling Hospital, you can find the masterpiece of Domenico Ghirlandaio, the Adoration of the Magi, as well as the beautiful Madonna col Bambino degli Innocenti. by Sandro Botticelli, which was painted between 1465 and 1467.
Or, again, slip into the Palazzo Davanzati, a remarkable and example of an ancient Florentine house, or palazzo signorile, which dates back to the 14th century; it is an extraordinary, wonderfully decorated and furnished building, recently reopened after extensive works. Internally, at least, Florence is a feast. Enough to feed a thousand art history schools.
Externally, however, it shouldn't be underestimated. There's marble enough to interest the lapidarian, from Santa Croce, to Santa Maria Novella, to the Duomo to Giotto's exquisite Campanile up to the gem on the hill of San Miniato del Monte, (which is as good inside as out).
And when up on the hill, rest awhile and gaze back over the town and its coursing river. You can see why the Romans needed it, and why everyone else since has kept it on the map. You can perhaps understand why Dante loved the place so much, and why, for a while at least, it was capital of the new Italy.
And when you've done musing, wander down the hill again and try one of the Hostarie in Via San Niccolo, or walk on back to the central market and sniff out the Trattoria Gozzi, where, despite the demise of the imposing Sergio himself a few years ago, the enduring standards of friendliness and honesty are practised by his son. It's only open for lunch, but their food is procured daily from the adjacent covered market and prepared in traditional Tuscan ways. Ribollita, aqua cotta, pappa del pomodoro; excellent red wine, first class meat.
Its wonderful interior lit by bright chandeliers that reflect off the Della Robbia (type) ceramics on the walls. Only now, I notice, the chandeliers are burning energy efficient bulbs, a faultless piece of modernisation, that perhaps matches the practical resourcefulness and famous intelligence of the Florentines.
And since that was the lunch, an eighty-minute nap on the train back to Rome will do just nicely!