Guide to some of the most trendy clubs and bars in Milan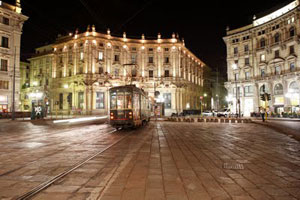 Besides its wonderful Navigli and Porta Ticinese night life, for those in search for fun, Milano by night proposes many clubbing venues; open from 11pm to 4am, although many already start with pre-party dinners. Many of the nigh scenes have an entrance fee, which provides you with an included drink to start off your night. So, dress up because dress-code is a must in the Lombard city, and get ready to experience the best clubbing spots of the Milano da bere ("Milan to drink").
Just Cavalli Hollywood
As the name suggests, this club has been created by the famous fashion designers Roberto Cavalli. Just Cavalli is set in the beautiful and romantic location of Parco Sempione (the most central park in Milan), inside the Torre Bianca. In 2010 it has renewed is style into a totally luxury style and highly technological sound and lightening system.
https://www.justcavallihollywood.it/
Address: Via Luigi Camoens c/0 Torre Bianca
Magazzini Generali
This is truly a unique place in its gender and the first one in Italy: Magazzini Generali is a multimedia location. It first opened in 1995, located in old storehouses built in the beginning of the 20th century that initially belonged to the Italian state railway. The club is on two floors with more than 1200 square meter that has hosted many concerts such us: Chemical Brothers, Miss Kittin, Sven Vath, David Guetta, Tiga, Ricardo Villalobos and many more.
https://www.magazzinigenerali.it/
Address: Via Pietrasanta, 16
Old Fashion
Situated inside Parco Sempione inside the Palazzo dell´Arte (Art Building), originally a donation of the Milan Commune in 1931 as "Art Factory", after more than 3 years of restoration, The Old Fashion opened in 1995, being the first metropolitan club with a restaurant and 2 dance floors. Both a restaurant and a club, the Old Fashion has 4 bars (plus 3 more in the "summer area") open from 8.30 pm until 5 in the morning and 3 privet areas After further restorations and improvements in 2001, 2003 and 2004, the Old Fashion has been the first club to be recognised, in 2006, as a "Shop of Historic Relevance" by the Milan Commune and Lombardy Region.

Address: Palazzo dell'arte di Milano Viale Alemagna 6
Hollywood
Situated in one of the most glamorous streets in Milan the Hollywood is at the centre of the attention of fashion events, with a clientele usually composed of top models, soccer players, rock stars and international TV presenters. Hollywood also organizes events associated to other international events such as: the Montecarlo Gran Prix, the Cannes Cinema Festival, the Academy Award ceremony in Los Angeles, the European MTV Awards, Paris, London and NYC's fashion shows. Moreover the Hollywood club is famous for its international DJs' Mikonos, from Barcelona, Paris, and Miami, to San Paulo and Rio de Janeiro.
https://www.discotecahollywood.it/home/
Address: Corso Como, 15
Blue note
Blue Note is a restaurant and jazz club open since 2003 and it belongs to the same group of the Blue Note Jazz Club in New York and Tokyo. Blue Note is open six days a week (Tuesday to Sunday) and hosts 350 shows every year. It is considered one of the most important premises of jazz music in Europe. The club´s restaurant offers Italian delicacies and a wide range of French and Italian wines as well as more than 200 different types of cocktails.
https://www.bluenotemilano.com/
Address: Via Pietro Borsieri 37
Il Gattopardo Café
Located inside a deconsecrated church since 2001, the Gattopardo Café it´s a modern disco bar used for both public and private events. The club is also used for TV, photographic and cinematographic sets as it function as a creative space with diversified uses right in the centre of Milan. The chosen location assures an elegant and unique environment that breathes of history and classical architecture.
https://www.ilgattopardocafe.it/
Address: Via Piero Della Francesca 47
Author Bio
Sara Coppola is a blogger for Miinto clothing store with a big love for night life and shopping. When she is neither working nor writing she loves to go back to Milan, her home city for four years, and go party with her friends.