About Monte Amiata
In these days of wild and violent volcanic eruptions – Etna, Stromboli, and (who knows when?) Vesuvius – it is reassuring to come across a tame, almost extinct, Volcano. Monte Amiata, the highest mountain in southern Tuscany (1791 metres), is just that. There is sufficient activity to run a geo-thermal power station at Piancastagnaio, and to heat the baths of Bagno Vignoni or nearby Saturnia, but not enough to shake the flanks of this mighty mountain.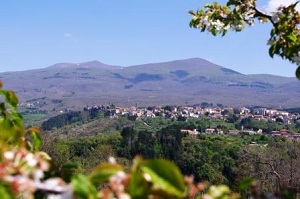 It's a mountain for all seasons, too. Not too far up the Via Cassia from Rome, but far enough to put it firmly in Tuscany, the twin summits are well-equipped for skiing, and there are several good hotels to stay in, where log fires, hearty food and a range of grappe provide comfort at the end of the day. There are all the attrezzi you need for fun skiing or tobogganing, but the woods are also great for off-piste.
If you are not a skier, there are fine views to be had from the extraordinary iron cross, rebuilt in the forties after German troops had destroyed the original, which has a vertiginous viewing platform, from where, on a clear day, you will glimpse far away mountains and recognisable landmarks, such as Monte Venere that overshadows lake Vico, or even the Gran Sasso (and even, believe it or not, Corsica). There is also the Madonna of the Boy Scouts, who perches above tumbled volcanic rocks, adorned by votive offerings of neckties from zealous scouts.
There's plenty of choice of bars and food stalls and huts selling kitsch, but not so much as to offend. The beech woods, that cover much of the higher slopes of the mountain, are beautiful and serene at any season, whether it's snowy and cold or you are looking for shade and cool in the hot summer months. At several points on the roads that entwine the shoulders there are parking spaces and barbecues, and yet there is room for all. It's a vast area of unspoilt woodland full of funghi when the weather is right, and occupied by all kinds of wildlife throughout the year, from deer to wild boar, buzzards to tree-creepers, snakes to porcupines.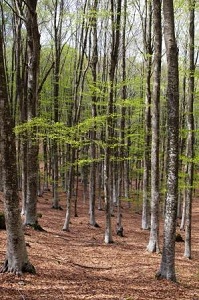 Lower down the hillsides, the forests become chestnut woods, and here the autumn is the best time to explore, as the colours are wonderful. Plumes of smoke rise from little fires where local contadini have cleared the undergrowth, as it is still a part of the annual rhythm of life. Things have changed, of course, and where the braying of donkeys was a familiar sound in the morning and at home time, now the sound is the mechanical chugging of mini tractors. There's not so much agricultural activity on the mountain either, as the younger generation has slipped off to find work in the building trade, or to live in the cities. It doesn't pay to scrape a living off the land any more in this region, unless you own big fields of olives or are lucky enough to have a rich vineyard.
It's this last that has brought the area most fame. The name of Brunello di Montalcino is not quite Monte Amiata, but the charming town of Montalcino is only a few kilometres to the north. Built by exiles from the just visible Siena (also to the north) the inhabitants of the area found that their San Giovese grapes just happened to grow bigger and better than they had done in the Chianti region, and that the rich red wine they produced kept ever so well in oak barrels. With practice they learnt to produce one of the world's great wines, and nowadays to qualify as Brunello the wine has to be kept for a minimum of five years in botte di rovere. There are dozens of different versions to choose from, and many can be bought direct from the producers, though do not expect it to be cheap! If you would like to taste, you can try the Bar Caffè Fiaschetteria at the heart of the town in the Piazza del Popolo. This is a beautiful and historic café which claims to be the first wine bar in Italy, having opened for business in 1888. On the other hand, for a sophisticated experience you might like to seek out the Castello Banfi, where you can try a variety of wines in the fairy tale medieval castle, and, in addition, you can stay in one of their luxury suites (prices starting from about €600 per couple per night, dinner bed and breakfast).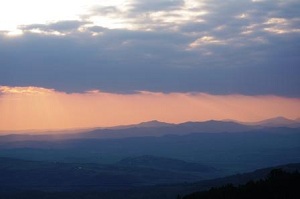 There is now a rival name in wine just next door to Montalcino, though it is a relative newcomer. You will see yellow signs to the Strada di Vino di Montecucco, and if you venture to the Castello di Potentino you can sample this. This castle, which is almost a village in itself, was until a few years ago falling into ruin, most romantically. Rumour has it that even Prince Charles expressed an interest at one time, but it has been taken over and completely restored and here you can also acquire fine wines an olive oil (and also rent a small apartment). In the same region, one of the brand names now found in foreign delicatessens is Seggiano. This is something of a con, perhaps, as the cheese factory in Seggiano went bankrupt and closed some years ago, and there are nothing like as many pecorino-producing sheep on these hills as there once were. It is good cheese, however, and certainly some of it is local.
If you are looking to buy yourself a Tuscan retreat, you need look no further than the paese of Seggiano. This classic hilltop village, with pink and ochre buildings leaning towards the morning sun and a precipitous scarp falling to the north towards a gurgling river, is rapidly changing hands. Once proud of the fact that it did not even have a petrol pump, it is now almost completely devoid of shops, except for a bar, a trattoria and a ferramenta on the main road. Curiously, where there once was a bar at the top of the village, there is now a bank. But where once there was a post office where you could also drink refreshing white wine, and a butcher with home made wild boar sausages, there are now padlocks and dry leaves. It became almost a ghost town, with the permanent population down to reportedly only one hundred. It has a wonderful position, with great views of the imposing mass of Monte Amiata, but its people need work and they're moving away and at the moment they are being replaced by foreigners, many from Albania.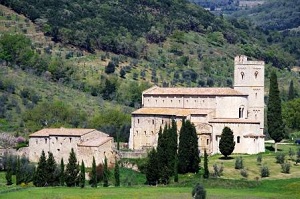 If your time in the area is brief, however, make sure you visit the wonderful Abbazia di Sant'Antimo, which is on the road from Seggiano to Montalcino. In a hollow in the hills, surrounded by olives and wheat fields, this elegant Romanesque church literally glows with light and beauty. It is almost a thousand years old, linked in history with the troops of Charlemagne; it is built of a honey coloured stone, some of which is alabaster, and it has windows of slivered onyx. Inside the proportions are perfect with slender columns and a rounded apse. A small community of Regular Canons, who draw their inspiration from the Premontratensien Order founded by Saint Norbert in the 12th century and from the Rule of Saint Augustine, have taken charge here, where once the custodian had to come rolling down from Castelnuovo dell'Abate, puttering on his moped, fuming two-stroke mix, tobacco and wine. This most beautiful of churches was in a state of quiet abandonment and many years ago I saw a Roller nesting in the cypress tree by the campanile. There are lots of visitors nowadays and the church is thronged on Sundays, or for weddings, so such a rare bird will not find peace there, but the cypress is still there, and peace is still the keyword.
Back up the mountain, there are a number of places to stay, either near the ski runs or in the busy town of Castel del Piano. But between the two, at 750 metres above sea level and with one of the best sunset views in the world, is the hamlet of Pescina where you can stay, and eat, at the family run Albergo La Scottiglia (www.lascottiglia.it/) where the Magini family has been catering for visitors to the mountain for getting on for 200 years. Their home made pasta is superb! You won't want to leave! And if you want proof, just arrive a little early for lunch or dinner. You will find the family together, from aged aunts to the youngest grandchild, at table together in the Dining Room, the view sweeping away towards the Maremma and the sea, plates of fresh local produce and delicious Tuscan traditions before them, glasses of deep red wine chinking in conviviality. You won't want to leave!