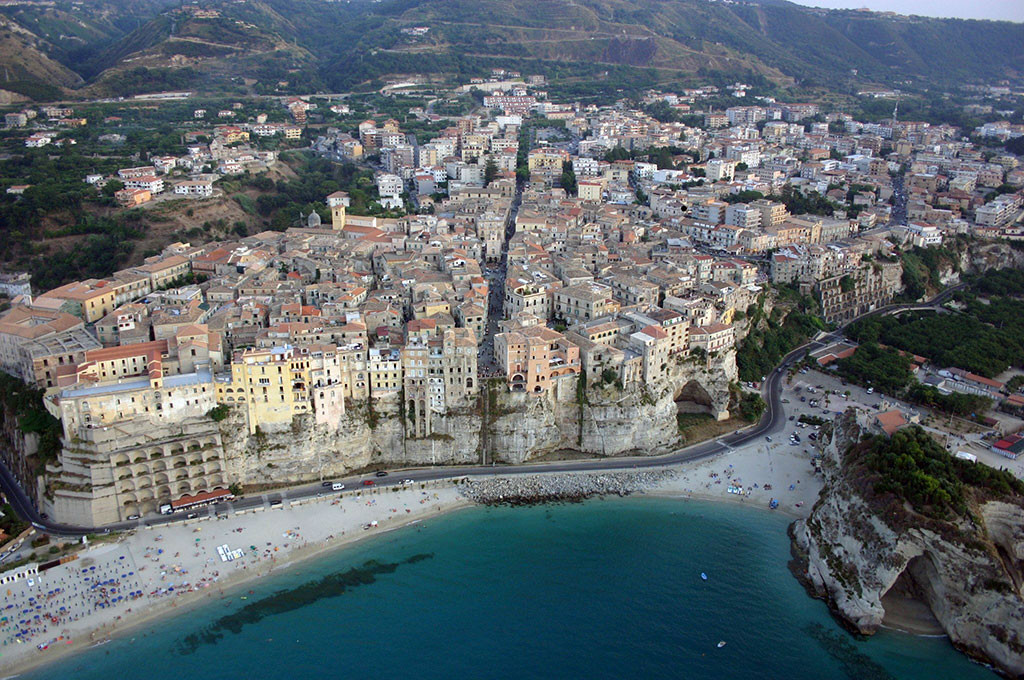 Tropea is situated midway along the Costa degli Dei – the coast of the Gods – a 40 kilometre coastline stretching from Pizzo in the north to Nicotera in the south that juts into the Tyrrhenian Sea. It is a land of white sandy beaches and turquoise sea, the faint call of the mythical Sirens of Greek legends, and a few unexploded bombs!
The old town of Tropea is perched dramatically on a plateau some 70 metres above its encircling beaches. Its main street, Corso Vittorio Emanuele III, needs a slow walk to take in its seemingly endless array of cafes, gelaterie and restaurants. But you must make it to its very end to witness one of the great views of Italy. The Corso terminates at a balcony – or belvedere – that overlooks the white sands of Spiaggia della Rotonda and the rocky promontory or island (depending on the tide) of San Leonardo e l'Isola Bella.
A path on this 'beautiful island' winds its way past fisherman's caves to Maria Santa dell'Isola, a church that currently occupies a site of religious significance since the fourth century. There are six public balconies spaced around the Tropean plateau, each with spectacular coastal views and most with steps leading down to one of the seven beaches spread out below. The 'Carabinieri' staircase, that begins its downward journey from Largo Gallippi, consists of 300 steps cut into the cliff face. On a clear day the Aeolian Islands, some 50 km distant, can be seen. The nearest of these islands, the restless Stromboli, often sends its tell-tale volcanic cloud skyward.
Tropea has not always been a safe place to live. Over the centuries, earthquakes have plagued the town and the unnerving habit of the locals to just build over the rubble of earlier destructions led to the towers of some buildings becoming quite unstable. After a serious earthquake in 1783 the government in Naples sent an engineer to clear away cluttered building areas to ensure adequate escape routes from any further devastation, and to reduce the height of towers to safer levels. You may be surprised to learn that even today a visit to the Cathedral is fraught with danger. This typical Norman construction with later Baroque additions is said to harbour, beneath an external wall, two unexploded bombs dropped by the Americans in the latter days of German occupation during World War 2. Presumably for protection, a famous painting 'The Madonna of Romania' has been hung on the wall nearby. So far her presence has been quite successful! The Cathedral contains other works and objects of significance – a fine statue of the Madonna and Child, a 14th century wooden crucifix, and a marble ciborium (or chalice) of Tuscan origin, for example. The Cathedral lies on Via Roma in an area of narrow lanes, intimate cafes and boutiques.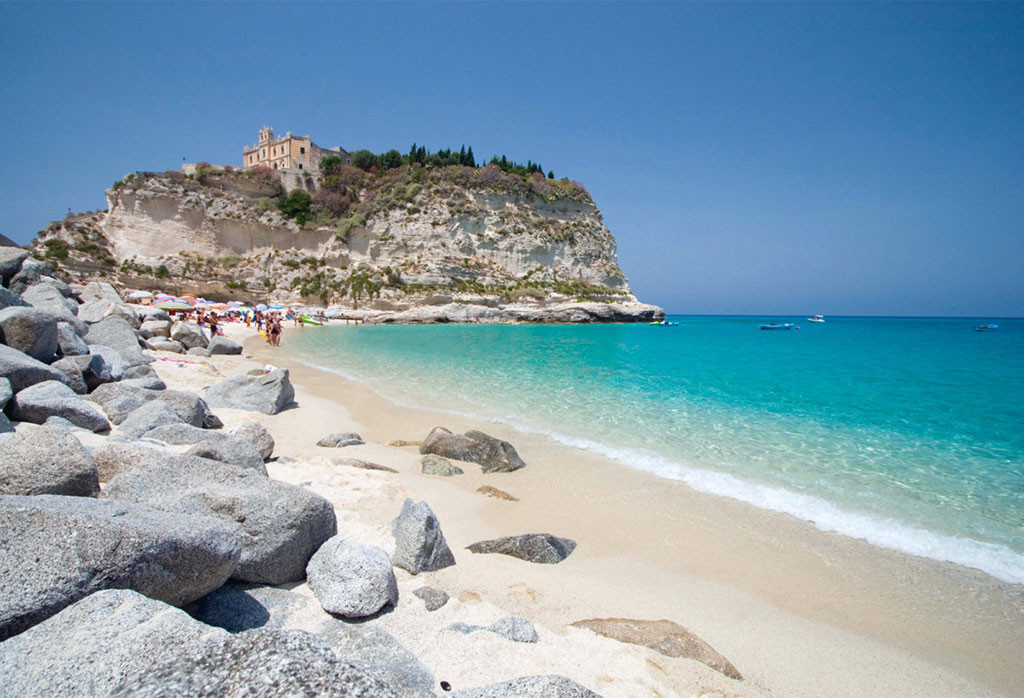 With its hot summers, mild winters and abundance of palm trees, you might think the name Tropea is related to a tropical climate. In fact, it is likely to be derived from the Latin for 'trophy' and was so named by the Romans as a tribute to the Gods following their successful conquest of Carthage in 209 B.C. Over the centuries many conquerors or invaders have passed by Tropea – the Greeks, the Saracens from Spain, the Normans and the French – but the town always managed to keep out of trouble and often received special trading privileges. As a result it became a refuge for wealthy merchants and noble families and their fine houses and palaces remain today to add to the attractions of the town. Many houses have impressive facades with high quality frescoes. Carved granite doorways are common, often originally leading into a spacious atrium with living quarters on the second and third floors.
The history of the area can be further traced back to times when hard facts merge with myths and legends. It is said that Tropea was founded by Hercules during his travels with the Argonauts while on their search for the Golden Fleece. A short distance south of Tropea lies Capo Vaticano, a lovely but mysterious headland with sandy beaches and sharp merciless rocks. This is one of the many possible sites for the mythical Sirens. These were sea creatures, usually depicted as beautiful women, who sang so sweetly that passing mariners were attracted towards them, subsequently foundering on rocky shorelines. In one Greek myth, the hero Odysseus was curious to hear the sound of the Sirens and so he had himself tied to the mast of his ship while ordering that his crew plug their ears with beeswax. When he heard the charming but deadly singing he begged to be untied but his sailors could hear neither him nor the Sirens and so the ship sailed safely by. Above Capo Vaticano sits the crumbling village of Coccorino where the elderly residents still follow time-honoured traditions of drying the abundant prickly pear in the hot summer sun. This is quite edible and can be used for making a tea-like beverage. Annually on August 12th a special trip to Capo Vaticano allows for the unusual sight of the sun setting exactly into the crater of the distant Stromboli. If conditions are perfect, this gives the volcano the appearance of an imploding eruption.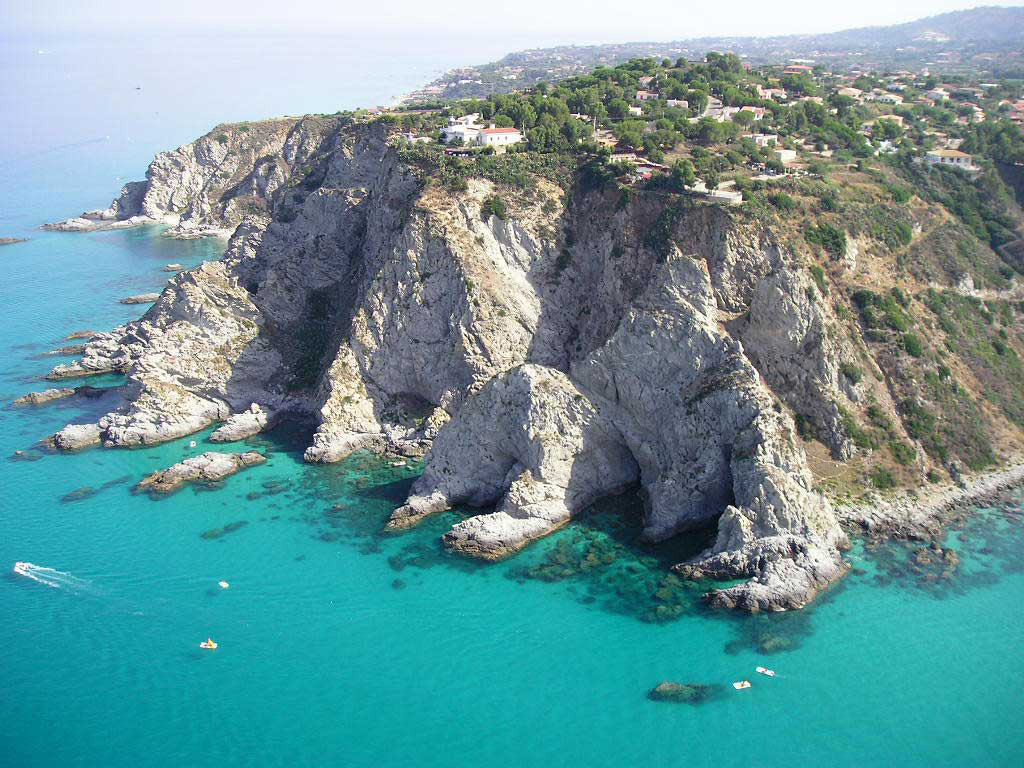 If you were to take in the warm evening air around Capo Vaticano, either by foot or open car, it would quickly become obvious as to the region's major crop. The onions grown here, or more specifically the red onions, are famous for their sweetness. They can in fact be eaten raw like an apple, but are considered superb in an onion pie (or calzone) or perhaps baked after stuffing with fried pancetta and shaved pecorino cheese. In general, onions may be used sparingly in Italian cooking, but here they are honoured. There is even a red onion festival held annually in July. As in many other areas, peppers and chillis also grow with abundance, and a nearby hill town, Spilinga, is famous for its hot sauce made from pork meat and chillis. Further north the town of Pizzo is where the famous ice cream confection, tartufo, originated.
Perhaps more than anywhere else in southern Italy, the Tropean tourist industry is growing. Visitors come mainly from northern Italy and Germany, but it is an area that deserves more attention. There is an Italian saying that Christ stopped at Eboli. This is a town just south of Naples beyond which a supposedly godless and lawless landscape was to be avoided if possible. Unfortunately many tourists feel the same way and this is unfortunate. The beautiful southern land of Calabria with its friendly unassuming people is a delight to explore, and, if you give yourself the chance, on a warm windy evening in Tropea you just might happen to fall under the spell of the Siren's song.