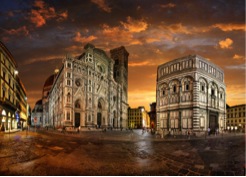 Night in Florence?
Being a solo female traveler there are two things I am always hearing. The first is that I'll end up dead somewhere or kidnapped for a sex ring because being female and traveling is super dangerous, way more dangerous than a man traveling alone. If you don't know why that isn't a bunch of nonsense, then you should meet more women travelers. The second is also to do with my safety and is oriented around how someone hopes that I don't do any of my traveling at night or walk around to explore places around night. This second one tends to go back to an American mentality of some kind that being out at night is more dangerous than day because all the crazy people are out then?
Well, not only am I here to tell you that the world really isn't a scary place, but the night happens to be one of my favorite times to be out, especially in really open areas like Florence and much of the Tuscany area of Italy, so long as you aren't out on an overcast night. Why is this?
The Calming Effect
Unless there is some major event going on, the majority of outdoor excursions during the sunset or night time are often peaceful and quiet. I mean, really peaceful, to the point that some nights, even walking in the city streets you can practically fall into a state of meditation if you let yourself. The night has some sort of calming effect that you just don't feel during the day with the sun blaring and everything quite so bright. If it didn't then we wouldn't always feel more tired at night (I know this is actually a scientific thing). But still, maybe there are some groups of people partying at a tavern or the occasional car zooming past you, but for Florence in particular you get to see things like the renaissance architecture bathed in moonlights or the stretch of the golden twilight.
The Frightening really isn't
Too many people are often afraid of the night, in particular when you are walking alone, but this mostly stems from often over exaggerated statistics, much in the same lines as 'you should never hitchhike because an ax murderer will pick you up'. That doesn't mean you should go hang out with some ax murderers and expect things to not happen for the worse, just that as long as you are smart about it, the night really isn't any more dangerous than the day (in fact many people would say the day is worse). But if you are worried to a considerable degree, there are still always options for seeing all the great sights and enjoy the calm atmosphere with some people. Grab some friends, or take a night tour, or even make some new friends and drag them along for an adventure (Last one should be done with at least some caution).
What's in Florence
You are probably all wondering at this point why I'm mentioning Florence a few times. Mostly because it happens to be one of my favorite places to see at night. Nothing really beats the cobbled stone streets, old, unique and eerie but interesting architecture that clashes well against the night colors. Just look!
Speaking of eerie, the other best reason for Florence? The stories. There are quite a few ghost stories spread all around Florence to mix with the history of many of the old-looking buildings. About the only place in all of Italy that really has more consistent ghost stories and mysteries would be Venice (which is understandable with how freaky that place can get). Also some of the reason I like Florence so much, might be due to some of the best gelato I've ever tasted, from places like Vivoli.
But maybe you'd rather see things that are more in the tourist direction. Well, nothing beats the straight up window shopping down some of the major streets to see some of the famous fashions, or even the statues you'll often find outside the art museums. Yes, you won't be able to go into the majority of the museums and art displays, but honestly you won't need to. Plus you see tons of museums and cathedrals everywhere in Italy, so it's not really something new.
The End Product
Hopefully, you'll get out there and actually enjoy the night. Not just in Florence but anywhere in the world. We as a people may have a natural fear of the dark, but that doesn't mean we need to fear the night too, especially when some beautiful things can be seen during that time, and in entirely new lights too.
Sarah Murphy has worked in Dublin for the last two years as a blogger, web content manager and marketing coordinator. A journalist by training and traveler by nature, she frequently travels to Italy for the business and pleasure of touring Florence, where she mostly spends her time in search of the perfect gelato.