A beautiful gem of a cookbook featuring Italian-American recipes, along with many authentic Italian forebears
By Eric Carter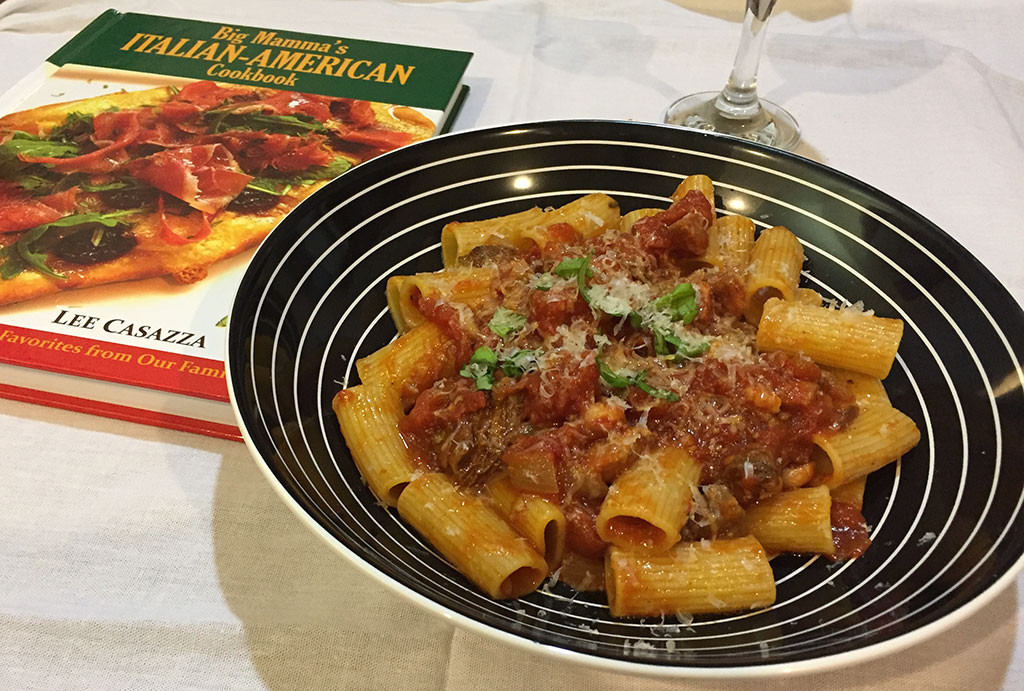 If you love Italian food, as do I, you would do well to incorporate this lovely hardcover collection of 118 (by my count) recipes.
Each features the recipe's name in English and Italian, some background on the food, along with a big color photograph of the completed dish.
The book is organized by recipe category (i.e. Appetizers, Meats, Pizza & Focaccia, Pasta & Gnocchi), and there are very helpful indexes at the book's end to aid the reader in seeking out a dish to make.
Each ingredient is explicitly listed (with measurements in both English and Metric units!), followed by very clear steps to reproduce the recipe.
If there are multiple elements to a dish, such as a protein, sauce, and vegetable, each element is addressed separately within the recipe with ingredient list and instructions.  Kudos to Lee Casazza for a logical and unambiguous presentation!
In addition to the author's bio, there is a very charming vintage photo collection of her extended "Italian-American" family, including her husband's great-grandmother (aka Big Mamma), who first inspired her passion for the cuisine of Italy and its derivatives.
I could not review a cookbook unless I actually made something in it, so on a Sunday I cooked the "Sunday Rigatoni with Beef Shank Gravy."
This recipe, courtesy of Lee's husband's grandmother, is an Italian-American dish, noting the nomenclature of "Sunday Gravy".
I used Muir Glen organic whole canned tomatoes, a lovely grass-fed beef shank, fresh Iowan pancetta, and Del Verde rigatoni, which is highly regarded in Italy. Sorry, but I just didn't feel up to making fresh pasta that Sunday!
The clarity of the recipe made its execution a joy for me. Once the sauce was removed from the oven, meat shredded, pasta cooked, and garnishes applied (freshly grated Parmigiano Reggiano, fresh basil and cracked black pepper), it hit just the right notes for that day.
And of course, the leftover "gravy" is even better the next day!
Recipe: Sunday Rigatoni with Beef Shank Gravy
Ingredients:
2 (28 oz/796 ml) cans whole peeled Italian tomatoes
2 lbs (1 Kg) beef shank with marrow bones intact2 tablespoons (30 ml) extra-light olive oil or grape seed oil, divided
1 medium onion, diced
4 oz (125 g) pancetta or unsmoked bacon, diced
4 cloves garlic, thinly sliced
2 tablespoons (30 ml) tomato paste
1/2 cup (125 ml) dry red wine or water
1/2 teaspoon (2 ml) red pepper flakes
Salt and freshly ground Black pepper
2 tablespoons (30 ml) chopped fresh basil
1 lb (500 g) rigatoni
Chopped fresh basil, for garnish
Freshly grated Grana Padano* or Parmigiano-Reggiano cheese
Preparation:
Pour tomatoes into a large bowl and hand-crush them, removing the hard center cores. Alternatively, use an immersion blender to chop the tomatoes.
In a large heavy pot or Dutch oven, brown the beef shanks in a tablespoon of oil for about 6 to 7 minutes on each side. Do not turn the shanks until they are deeply browned. This will add flavor and allow the meat to release from the pan. Remove the meat from the pot and set aside.
Pour off any excess grease and add the rest of the oil.
Sauté the onion and pancetta for about 10 minutes over low heat.
Add the garlic and sauté another minute.
Add the crushed tomatoes, tomato paste, wine or water, red pepper flakes, and season to taste with salt and pepper.
Simmer for 10 minutes, then return the beef shanks to the pan and nestle them into the sauce.
Cover with a tight-fitting lid and place in a 325 F (170 C) degree oven for 2 to 2 1/2 hours.
Using tongs, transfer the beef shanks to a cutting board.
When cool enough to handle, shred the meat and place back into the pot.
Discard the marrow bones. Reheat gravy and stir in chopped basil.
Boil the rigatoni in salted water for about 9 to 10 minutes, until al dente.
Drain rigatoni and pour back into the pot.
Add a couple of ladles of the gravy (with some shredded meat) to the pasta and toss.
Spoon into warm pasta bowls, add a little more of the gravy and meat to the top of the pasta.
Sprinkle with some chopped basil and serve with grated cheese.
Buon appetito!
Serves 4
*Grana Padano cheese is one of the world's first hard cheeses; it was made by monks near Milan, Italy, in the 12th century. Grana means "grain" in Italian, referring too the texture of the cheese.
(Republished with permission)