A delicious alternative to the traditional flavors of Tiramisù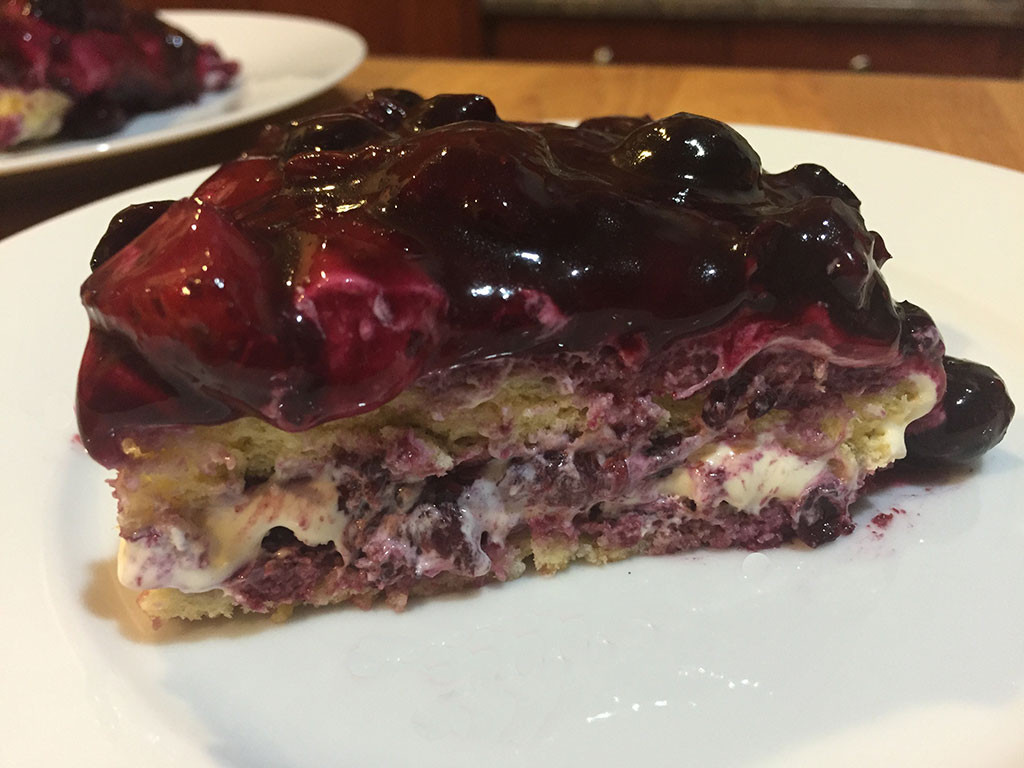 Tiramisù, you heard, and probably tasted it, is one of the most popular desserts coming from Italy. It's been said that in the late 1970s or early 1980s a chef started using cookies called Pavesini, smaller than ladyfingers, soak them with espresso, make a cream using fresh egg yolks, mascarpone cheese, sugar, and a masterpiece was born.
I've been making tiramisù for over 30 years, and people swear I make the best tiramisù. Thanks. The original recipe will follow to this one.
But this time, I decided to try a different approach. After hearing my sister's making of a tiramisù with fresh berries and whipped cream as a lighter alternative, I wanted to give it a try, considering that I had a package of mascarpone and frozen berries already at my disposal. Tiramisù is quite caloric and contains a fair amount of cholesterol, fat, and sugar. However my version also included mascarpone and eggs for the basic cream, I added some whipped cream to it to make it fluffier.
Based on the availability of the ingredients, you can try using ladyfingers instead of sheet cake. If mascarpone is not available, try supplementing with additional whipped cream, but it won't have the same flavor that only mascarpone has.
This recipe was prepared for a 6×9 pan
Ingredients:
3 cups of frozen mixed berries (strawberries, blackberries, raspberries, blueberries)
1/2 cup of fresh strawberries (for the compote topping)
1 cup of fresh blueberries (for the compote topping)
1 sheet cake about 3/8″ thick or 1 box of ladyfingers, enough to make 2 layers
8 oz of mascarpone cheese at room temperature
1/2 cup of cream, whipped
5 tbsp confectioner's sugar
Zest of 1 lemon
2 egg yolks at room temperature
Procedure:
You should extract the juice from the frozen berries, we put them in a fine colander and let them drip for a couple of hours, then we squeeze the remaining fruit to extract all the juice.
We proceed to make a 1 sheet cake and let it cool. Remember we can use ladyfingers instead.
In a mixer we put the 2 egg yolks, lemon zest and the sugar and mix until light and fluffy. We then add the mascarpone and blend well. We gently incorporate the whipped cream into the mix.
Now we're ready to assemble the tiramisù.
We begin by slowly pouring and spreading the juice on the sheet cake that has been cut to fit into the pan, or if using ladyfingers by quickly dipping them into the juice.
Gently we add half of the cream and spread uniformly on top of the sheet cake. We continue with the second layer and use all the remaining cream to cover the top.
We make a simple compote with the fresh strawberries and blueberries, let it cool, and spread it on the top of the tiramisù. We then refrigerate it for at least 2 hours.
Use balsamic vinegar glaze for a fancier presentation.
Enjoy!