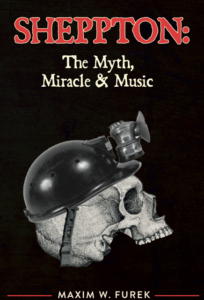 Author Maxim W. Furek maintains that Sheppton: The Myth, Miracle & Music embraces themes of the supernatural and the miraculous. Says Furek, "Although most people have never heard of Sheppton, numerous Vatican scholars believe that Sheppton is proof that Pope John XXIII performed miracles. I wanted to celebrate the legacy of John and investigate this modern day miracle that saved the lives of two miners."
While confined, miners David Fellin and Henry Throne claimed they were in the presence of His Holiness, Pope John XXIII. Explaining the alleged papal visitation, Fellin told one reporter: "He was always a little bit to the rear on my right side and stayed with us all the time."
The image of John XXlll remained with the miners for a two-week period until their rescue. According to writer Nora V. Clemente-Arnaldo, because the pope had died two months earlier, the Sheppton incident was viewed as a miracle. She wrote, "Like St. John Vianney, Pope John XXIII is also credited with after-death appearances.
A story written by Madeline Pecora Nugent in the "Messenger of St. Anthony" gives the documented testimony of two coal miners, David Fellini (sp) and Henry Throne, trapped 300 feet underground in Pennsylvania way back in August 1963, 10 weeks after the death of Pope John XXIII.
This is what the two said: 'That they both saw the 'Good Pope' in his black cassock grinning comfortingly and lovingly at them in the chamber, while his body radiated the bluish light. That he was with them until their successful miraculous rescue on 27 August 1963.'
"Clearly, the Lord answered Pope John XXIII's prayer by saving from death these two trapped miners given up for dead," Clemente-Arnaldo concluded of the Sheppton saga.
On April 27, 2014, during a dual canonization ceremony, Pope Francis declared the sainthoods of John XXIII and John Paul II. John's concern was for the world and for all humankind rather than solely for the Church. His most famous statement was, "We were all made in God's image, and thus, we are all Godly alike."
The Sheppton borehole technique became the standard rescue procedure and was later responsible for saving the lives of 33 copper miners in Chile. That ordeal was revisited in the 2015 motion picture "The 33" and documented by Pulitzer Prize winner Hector Tobar in Deep Down Dark: The Untold Stories of 33 Men Buried in a Chilean Mine.
The Sheppton Mythology blends the spirit of human survival with the miraculous spirit of Pope John XXIII.
The Sheppton book is available at Amazon.com