Sponsored post
Scopri come ottenere alloggi a prezzi supercompetitivi oppure biglietti per vari eventi.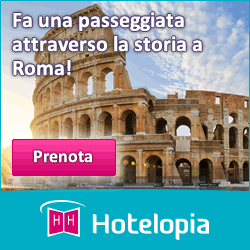 Hotelopia é parte di Hotelbeds, compagnia europea leader in viaggi e che offre servizi a piú di 30 milioni di clienti in 180 paesi attraverso le sue diverse marche.
L'obiettivo di Hotelopia é aiutare il viaggiatore indipendente, sia per viaggi di lavoro sia per viaggi di piacere, a trovare e prenotare il suo hotel con maggiore facilitá, sicurezza e il prezzo piú adeguato. Offriamo una grande varietá di hotel e appartamenti, dai piú modesti ai piú lussuosi a cinque stelle.
Disponiamo delle destinazioni turistiche piú popolari in diversi angoli del mondo e continuiamo ogni giorno ad aggiungere nuove destinazioni. I nostri clienti possono scegliere tra piú di 94.000 hotel, piú di 7.500 destinazioni d'Europa, Nord America, America Latina, Caraibi e Asia.
Offriamo trasferimenti privati o condivisi a prezzi incredibili
Il nostro servizio
Ti offriamo trasferimenti in auto e in autobus nelle principali destinazioni del mondo.
Abbiamo un'ampia gamma di trasferimenti: Shuttles o privati con varie opzioni (andata, ritorno o andata e ritorno).
Prenota ora il tuo trasferimento!
Effettua la tua prenotazione in 3 passi e godi di un servizio di alta qualitá con autisti professionisti e veicoli moderni totalmente assicurati.
HOTELOPIA S.L.U., con sede a Palma di Maiorca (Spagna), Complejo Mirall Balear, Camí de Son Fangos 100, Torre A, 5ª planta, CP 07007, agenzia di viaggi organizzatrice/venditrice, con P.IVA B57218356 e licenza BAL-481 M/D, iscritta nel Registro commerciale di Maiorca alla pagina PM-44857, tomo 2007, folio 148.


Free dating website to meet singles from Italy and around the world!